10/13/2021
ASHP Mourns Death of Former AJHP Editor C. Richard Talley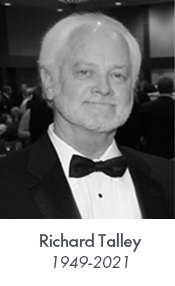 Charles Richard Talley, who joined AJHP's editorial staff in 1978 and led the publication for more than two decades, died suddenly Sept. 21 in Bethesda, Maryland. He was 74 years old.
Talley, who retired at the end of 2014 as AJHP's editor in chief, was known to all as Richard. He is remembered for his kindness, his quirky humor, and his love of baseball, bright red sports cars, literature, photography — and above all, his family.
"The ASHP family experienced a great loss with the passing of Richard Talley," said ASHP Chief Executive Officer Paul W. Abramowitz. "As the editor in chief of AJHP and a member of ASHP's senior leadership team, Richard's contributions to healthcare, the profession of pharmacy, and ASHP were immeasurable. He was guided by integrity, compassion, and principles, which he applied to his editorial leadership of AJHP and Clinical Pharmacy. On behalf of the ASHP Board of Directors and staff, I offer my deepest condolences to his wife Bona, their sons Jack and Michael, and the entire Talley family."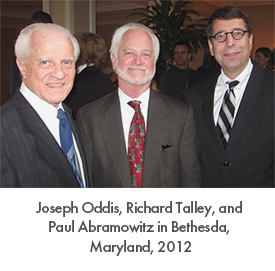 "Richard's commitment to patients, health-system pharmacy practice, and ASHP were abundantly evident in his leadership of AJHP for over 20 years," said Daniel J. Cobaugh, vice president of the ASHP Publishing Office and editor in chief of AJHP. "The journal's voice was essential in the advancement of clinical pharmacy practice and leadership during Richard's tenure. The AJHP editorials he authored demonstrate his insights, passion, and caring. All of us on the journal's staff are deeply saddened by the loss of our dear friend."
Talley was born Nov. 18, 1946, in Dallas, Texas, to Paul Lester Talley and Myrtle (Helms) Talley. Paul, a store clerk, died in 1949. Myrtle, a nurse, married Louis Zimmerman in 1952, and they raised their family in Cleburne, Texas.
Talley earned a bachelor's degree in pharmacy from the University of Texas at Austin in 1970 after briefly considering a career in dentistry. He found his passion for pharmacy while interning with ASHP charter member Leo Godley at Harris Hospital in Fort Worth and, ultimately, completing a pharmacy residency program there.
Talley remained at Harris Hospital for six years as a member of the pharmacy staff. He was assistant director of pharmacy in 1978 when AJHP Editor William A. Zellmer hired him as the journal's senior assistant editor. Talley succeeded Zellmer as AJHP editor in 1992.
"I felt very fortunate for being able to recruit Richard to the journal staff because of the experience he had as assistant director of a pioneering pharmacy department at Harris Hospital," Zellmer recalled. "AJHP's content and readership were rapidly expanding at the time, and Richard helped us achieve new levels of service to ASHP members."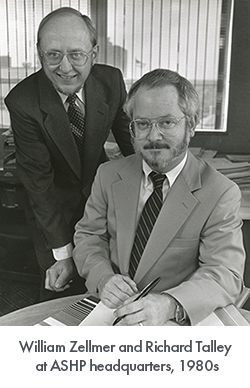 Zellmer took on other senior positions at ASHP and continued to work alongside Talley for many years.
"Over the years, through shared interests and experiences, Richard and I became close friends," Zellmer said. "It is a precious gift to have a friend who tells you the unvarnished truth, laughs with you about the absurdities that pop up from time to time, and models for you how to live a fulfilling life. I am grateful for having had Richard as such a friend."
Talley helped orchestrate the launch of the ASHP journal Clinical Pharmacy in 1982. A dozen years later, responding to trends in pharmacy practice, he led the absorption of the publication's content into AJHP. He also spearheaded AJHP's change from a monthly to a twice-monthly publication schedule.
In addition to managing AJHP's operational aspects, Talley ensured that the journal's editorial content reflected the needs and interests of all segments of ASHP's membership.
"Richard maintained AJHP's long tradition of quality and excellence, advocated effectively to advance the pharmacy profession, and introduced a number of innovations to the journal," said AJHP Deputy Editor in Chief Maryam Mohassel. "He authored numerous pieces for AJHP and other publications and invited scores of editorials for publication consideration in the journal."
Talley also led AJHP's move to an improved web platform that extended the journal's reach and ensured it kept pace with digital trends in academic publishing. Mohassel said Talley was particularly proud of the 2010 launch of AJHP Voices, the journal's popular podcast series, which he developed in collaboration with Zellmer.
Talley helmed the journal when it faced perhaps its most dramatic threat — a defamation lawsuit. The suit was filed by a manufacturer in response to a peer-reviewed report, published in AJHP in 2007, comparing the potential for airborne contamination among five different aseptic isolator devices.
A federal court found no basis for the lawsuit. Talley wrote that the ruling was "important to the entire world of scientific publishing in that it upheld the rights of authors, reviewers, and editors to convey candid, fact-based opinions and publish results without fear of retribution."
In addition to leading AJHP, Talley oversaw ASHP's Production Center, website development, and CareerPharm teams in his role of assistant vice president of ASHP's Publications and Drug Information Systems Office. He was unstinting in the friendship and support he extended to his staff.
"Richard is the reason that I worked more than two decades at ASHP — first in AJHP's manuscript development group and then in ASHP's News Center," said retired News Center Director Cheryl A. Thompson. "He encouraged me and made sure I did not flounder in new endeavors. When I asked in 2003 to become a remote worker in California, without a plan to return to headquarters at any time, he wholeheartedly supported me."
Mohassel said she was grateful for Talley's influence on her career during the 14 years she worked for him, but she valued his friendship even more.
"I was fortunate to have known this kind and gracious man and will miss him terribly," Mohassel said. "He was my mentor and dear friend. To those of us who knew Richard well and worked with him closely, he was a man of integrity who remained true to his principles even when it was inconvenient. He was brilliant, compassionate, generous, fair, and loyal. Most importantly, his competence and confidence as a leader were always tempered by his humility."
Catherine Klein met Talley in 1985 when she worked for him as AJHP assistant editor and initially thought her new boss was "a serious, staid, editorial staffer."
"I got that one completely wrong," said Klein, who now serves as director of education development and outcomes at ASHP's Office of Professional Development. She said Talley loved to gather with his team at local restaurants to celebrate staff hires, departures, and retirements.
"I'll always be thankful for Richard's stewardship in my pharmacy career. Yes, he was instrumental in helping me grow during my tenure on the journal staff, but I'm most grateful for the support and attention he gave me during life's big moments — marriage, motherhood, and death of my spouse," Klein said.
Johnna Hershey, director of ASHP's Production and Platform Services, said Talley always treated his staff as people first and employees second.
She recalled being nervous many years ago at the prospect of informing Talley, her new boss, that she was expecting and would soon be on maternity leave. Hershey wrote a "script" outlining her preparation for handling any contingencies that might arise during her absence.
"After I got the nerve to enter Richard's office, I launched into my written remarks. He interrupted me to say, 'Congratulations to you and Bryan! That is the best news you'll ever receive in your life.' He went on to tell me how much his wife and children meant to him," Hershey said.
She also valued Talley's self-described management style, which was "to hire qualified people and then get out of the way so they could do their jobs."
Talley is survived by his wife of 40 years, Bona Benjamin, who joined ASHP's staff in 2007 and helped lead the organization's medication-use quality efforts until her retirement in 2017.
Other survivors include son John (Jack) Talley, his wife Leslie Erin McCullough, and their sons Kai and Knox; and son Michael Talley and his partner Dan Gibbs. He is predeceased by his father, Paul Lester Talley; mother Myrtle (Helms) Zimmerman; stepfather Louis Zimmerman; brother Paul Lester Talley; and stepsisters Linda Cheatley and Susan Friou.
[This news story will appear in an upcoming issue of AJHP.]