10/19/2021
Federal Pharmacist Paul T. Michaud Honored for COVID-19 Efforts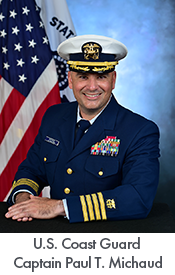 U.S. Public Health Service (USPHS) Capt. Paul T. Michaud, pharmacy force manager for the U.S. Coast Guard, was honored this year with the Legion of Merit Award in recognition of his outstanding meritorious service in developing and implementing the Coast Guard's COVID-19 vaccination program.
The award ranks high among federal honors and is the only U.S. military decoration, other than the Medal of Honor, that is worn around the neck.
"I'm extremely humbled and honored to receive the Legion of Merit. It definitely was beyond anything I thought I'd receive," Michaud said.
He emphasized that many of his colleagues supported the vaccination effort from its inception, and they continue to do so today.
"This was an all-hands evolution from the top down," Michaud said. "It took a large team effort ... to have the impact that we did with this operation."
The Coast Guard is responsible for maritime safety, security, and environmental stewardship along the nation's coastline, at U.S. ports, inland waterways, and territorial seas, and on the high seas. The service's workforce consists of about 40,000 active duty members and 10,000 civilians.
All active duty Coast Guard pharmacists — 15 in all — are detailed from USPHS, with 13 assigned to field billets serving a total of about 40 clinics and 150 active duty sites. In addition to handling everyday medication needs, pharmacy personnel participate in annual dispensing and mass vaccination exercises to ensure they're ready to respond to emergencies.
Michaud is stationed at Coast Guard headquarters in Washington, D.C., filling one of the service's two administrative pharmacy positions. He has been on assignment to the Coast Guard since 2013 and previously spent about a decade with the Indian Health Service.
The citation accompanying Michaud's Legion of Merit award credits his leadership and initiative since August 2020, when the Coast Guard was preparing for the imminent authorization of COVID-19 vaccines.
Michaud, who was named vaccine incident commander for the Coast Guard, acted quickly to secure cold storage and assembled a team of experts to manage all aspects of the vaccination campaign, from planning and logistics through administration and documentation.
The team collaborated with the Department of Defense and the Defense Health Agency, building on previously established relationships, to align the vaccination mission across all U.S. military services worldwide.
He said senior leadership, recognizing that COVID-19 vaccination would present complex logistical challenges, authorized the launch of an incident management assist team in November 2020 — a resource that's typically activated in response to crises like oil spills and natural disasters.
"The Coast Guard's very small, and we usually get things done without a lot of people," Michaud said. "So this was kind of unprecedented, the standup of a medical incident command."
As the operation got underway, Coast Guard reservists were assigned to incident command and planning teams to sustain the vaccination effort across the service.
Michaud said more than 75,000 vaccine doses had been administered to active duty and reserve Coast Guard personnel and civilian staff by Oct. 1. About 84% of active duty Coast Guard members were fully vaccinated, and 91% had received at least one dose.
"We're still vaccinating people today," Michaud said. "The vaccination will ... ensure that we're protecting ourselves, our shipmates, our families, and our communities against COVID-19."
He acknowledged that it's been "a long couple years for healthcare workers" since the pandemic started, and he extended his thanks to all who have participated in vaccination efforts.
"I truly believe that vaccines are the way out of this, and they save lives," he said.
[This news story will appear in an upcoming issue of AJHP.]