2/25/2022
Pharmacist-Managed Triage Service Guides COVID-19 Antiviral Treatments
As the COVID-19 pandemic enters its third year, pharmacists continue to demonstrate their ability to successfully undertake unfamiliar tasks, says Megan Dorrell, director of ambulatory clinical pharmacy services for Community Health Network, an integrated healthcare system serving central Indiana.
Dorrell said her clinical pharmacy team has been busy triaging patients to determine their eligibility for ritonavir-boosted nirmatrelvir, an oral therapy for the treatment of mild to moderate COVID-19.
The Pfizer product, also known as Paxlovid, was first approved for emergency use Dec. 22, 2021, in people 12 years or older who are at high risk for progressing to severe outcomes of COVID-19, including hospitalization and death.
"Health systems have received a limited supply of medications, but it's never as much as needed, and so the orders always outplace the supply. So there's a need for triage," Dorrell said. "The medications also have very specific criteria for use as well as contraindications. And so they need a pharmacist's eye on them to get the right patients the right meds."
Community Health Network relies on National Institutes of Health (NIH) recommendations for Paxlovid therapy, including patient selection and monitoring for adverse events.
According to NIH, most of the Paxlovid's known drug–drug interactions involve the ritonavir component and its action as a cytochrome P450 3A isozyme inhibitor.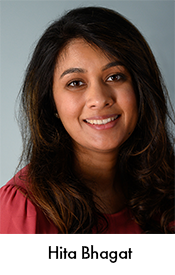 Hita Bhagat, ambulatory care clinical pharmacy specialist in infectious diseases, said the most common drug interaction issues that affect recommendations for oral Paxlovid therapy are concurrent use of oral anticoagulants or neuropsychiatric drugs, including seizure medications. She noted that the five-day treatment course for Paxlovid makes drug interactions a short-term concern for most patients.
The clinical pharmacists who perform the telephone-based triage services also make recommendations about treatment with sotrovimab, GlaxoSmithKline's emergency COVID-19 monoclonal antibody therapy, and remdesivir.
"It comes down to, on that day we get the order, what do we have in stock, what can we give the patient," said Sydney Rapp, clinical specialist in ambulatory and primary care.
Rapp said the service reviewed more than 800 orders for oral and IV COVID-19 therapies during the first four weeks of operation. She estimated that on a typical day, the pharmacists receive about 80 referrals for therapy and approve about 50 of them.
She said the triage service allows pharmacists to hone their soft skills as they counsel patients about their therapeutic options and empathize with people who are sick and unhappy but don't qualify for treatment.
Because federal guidelines indicate that the therapies should be targeted toward people at greatest risk for severe COVID-19 outcomes, most people who qualify for therapy are unvaccinated, elderly, immunocompromised, or pregnant, Rapp said.
Bhagat said informal feedback suggests that the therapies are sparing people from the worst effects of COVID-19. She said patients often report feeling better after a couple days of therapy and don't go on to require hospitalization after completing their treatment course.
She said some patients have told her that their unpleasant experiences with COVID-19 subsequently led them to get vaccinated.
"We still recommend that everyone get vaccinated and boosted," Bhagat said. "It is great that we have these treatments, but overall we'd prefer that the populations at risk get vaccinated."
Rapp said she's enjoyed being part of the triage team and getting positive feedback from patients.
"I have definitely had a huge number of patients who couldn't have been more thankful that I was at the other end of the phone offering them treatments," Rapp said. "We definitely had an outpouring of patient gratitude, and this definitely feels good."
Indiana reported a huge spike in SARS-CoV-2 infections starting at the end of last year, when the Omicron variant of the virus was circulating widely.
"Here in Indiana, in general, we have been hit very hard with this surge, as I know many other places have," Dorrell said. "We've been incredibly full, our ICUs are incredibly full, patients are waiting in the emergency departments for beds, just like at a lot of other places."
The infection rate peaked after about a month, surpassing all previous waves of infection, before falling in early February to approximately the level seen before the Omicron wave.
"I think we're definitely in a better place, from a COVID perspective now than we were even a few weeks ago," Dorrell said. "But it's still not a great place