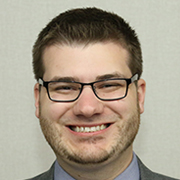 Calvin J. Ice, PharmD, BCPS, BCCCP ([email protected]) is a clinical pharmacy services supervisor at Corewell Health West (formerly Spectrum Health) in Grand Rapids, MI. He is a PharmD graduate of Ohio Northern University and completed a PGY1 pharmacy residency followed by a PGY2 critical care pharmacy residency at Mayo Clinic in Rochester, MN. He started as a clinical pharmacy specialist for surgery at Spectrum Health in 2015 and transitioned to a supervisory role in 2018. In his current role, he continues to practice in the surgical/trauma ICU parttime; leads pharmacy intern, student, and resident teams; serves as the PGY1 residency program director; and leads departmental initiatives on clinical documentation and workflows. Additionally, he serves as an adjunct assistant professor for Ferris State University and coordinates a longitudinal APPE program at Corewell Health.
Dr. Ice has been an active member of ASHP since 2010 and has served in appointed and leadership roles within the Pharmacy Student Forum as Leadership Development Advisory Group member and chair; New Practitioners Forum as Resident Advancement Advisory Group member and chair, Executive Committee vice-chair and chair, and delegate to the ASHP House of Delegates; Section of Clinical Specialists and Scientists member of the Clinical Leadership Advisory Group; and member of the Council on Therapeutics. As a member of the Clinical Leadership Advisory Group since 2018, Dr. Ice has worked with several teams to develop multiple resources, webinars, podcasts, and programming proposals to educate ASHP members and has served as a workgroup lead the past two terms.
We as clinical pharmacy specialists and scientists are faced with numerous unique challenges in advancing pharmacy practice; however, our goal with any of these challenges remains the same in providing the right drug to the right patient at the right time. In our dynamic healthcare landscape, we are also challenged to innovate both within our therapeutic approaches and also within our practice models. Our section is well-positioned in providing guidance and resources in facing these challenges and can continue to support our members with access to resources, programming, webinars, and podcasts tailored to keep our members prepared as experts to provide our patients with the highest quality care in the face of novel therapies and evolving practices.
It is an honor to be nominated to serve as chair of the section, and I am excited for the opportunity to continue to serve the section's mission to advocate for practice advancement and improvement in patient care by creating and translating scientific advances into practice. If elected as Chair, I look forward to the opportunity to use the skills in collaboration and leadership I have developed as an ASHP leader the past 13 years as a student, new practitioner, and now more experienced practitioner. I am excited to collaborate with our Section members and leaders on a shared vision to integrate our scientific advances and knowledge into practice and improved patient outcomes while highlighting the value each of us brings to our patients.