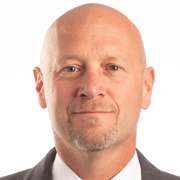 Jeffrey J. Cook, PharmD, MS, MBA, CHFP ([email protected]) is the chief pharmacy officer and assistant dean for the College of Pharmacy at the University of Arkansas for Medical Sciences in Little Rock, Arkansas. Having served eight years in the U.S. Army and having practiced pharmacy in community hospitals, academic health systems, and integrated delivery networks, he has broad perspectives on unique leadership challenges across health-system pharmacy.
Committed to the profession through education, Jeffrey has been actively precepting learners for almost twenty years. He has been a key contributor to residency programs from HSPAL and postgraduate year 1 and has built confidence in the professionals responsible for the future. Jeffrey received his MBA from Stetson University, his MS in Pharmacy Economics from The University of Florida, and his PharmD from The Ohio State College of Pharmacy. He recently strengthened his understanding of the financing of healthcare through HFMA, by acquiring skills as a Certified Health Finance Professional. He is working toward a greater commitment to 340B preservation through the Apexus Certified Expert (340B ACE) certificate training.
Jeffrey is serving ASHP as one of two Arkansas delegates to the House of Delegates. He also serves on the ASHP Section of Pharmacy Educators Section Advisory Group for Collaboration between Health Systems and Academia. He is the former Chair of the Arkansas Association of Health-System Pharmacists Hospital Advisory Group. He is frequently invited to present on leadership and pharmacy topics within the state. Jeffrey was recently honored with the 2022 American Association of Colleges of Pharmacy (AACP) Master Preceptor Award.
The healthcare industry is unique in structure and function but shares the common problem of limited resources. As the financing of healthcare moves to a value-based payment approach, pharmacy professionals get an opportunity to step up and help be part of the solutions needed to improve our healthcare in the U.S. Being a pharmacy professional today means working in uncertain times, but it also means being creative with solutions that solve problems we see on a daily basis.
If we continue to work toward raising standards in education, enabling the maximum potential for our clinicians (top-of-license activity), and diversifying our teams to enable better collaboration, we will see more solutions and fewer problems.
The financing of healthcare is complicated, but pharmacy professionals can intervene at points along the continuum of care that can result in better outcomes, cost-savings, increased coverage of care, and better use of limited resources overall.
This is a fight that can't just take place in the health systems across the country. This fight has to start with advocating for improvements at the local, state, and federal levels. When we see something, we say something and work to fix the problem in a manner that is beneficial overall. Some of the most pressing issues today include 340B protections, workforce shortages, and rising costs in healthcare.
ASHP has played a vital role in giving our profession the voice to make a difference. It would be an honor and a privilege to serve on its Board.