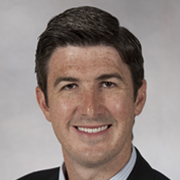 Joshua W. Fleming, PharmD, BCACP, FASHP ([email protected]) is a clinical associate professor at the University of Mississippi School of Pharmacy in Jackson, Mississippi. Dr. Fleming completed his PharmD at the University of Tennessee Health Science Center in 2010 and went on to complete at PGY1 pharmacy practice residency at Campbell University College of Pharmacy and Health Sciences and a PGY2 ambulatory care residency at The Johns Hopkins Hospital. In his current role with the School of Pharmacy, Dr. Fleming established the PGY2 ambulatory care residency program in 2015 and serves as the residency program director. His clinical service is with the Cystic Fibrosis Clinics at the University of Mississippi Medical Center, and he has served in various courses and course leadership positions.
Dr. Fleming enjoys active involvement in ASHP. Notable roles include service as vice-chair and chair of the New Practitioners Forum, member of the Joint Sections and Forums PAI committee, member of the PAI 2030 planning committee, numerous reviewer roles for grants with the ASHP Foundation, and chair of the Committee on Nominations for the Section of Community Pharmacy Practitioners. Dr Fleming received the Distinguished Service Award in 2018 and achieved Fellow of ASHP in 2023. In addition, Dr. Fleming has been actively involved with the Mississippi Society of Health System Pharmacists (MSHP), including service as president, Education Committee chair, and delegate for the ASHP House of Delegates. Dr. Fleming was recognized with the MSHP Service Award in 2014 and Pharmacist of the Year in 2016.
As someone who has been involved with precepting and educating students for more than a decade, the Section of Pharmacy Educators is a welcomed addition to ASHP. In an organization that serves as a home for residency training and development, this section is needed to continue developing preceptors and educators to ensure that we are equipping the pharmacy workforce for the current healthcare landscape, but also for the future outlined in many of the PAI 2030 recommendations. In addition, we need to be preparing learners for what will be the most diverse generation of patients that will be using the healthcare system now and in the future. This will require further education and development of our current pharmacy workforce to prepare our learners. As we have all seen and experienced, many schools and colleges of pharmacy are facing challenges with enrollment. While I do not have an answer for this challenge, we need to be cognizant of the impact of this for the future workforce in residency programs, hospitals, and health systems.
I am grateful for our profession, this organization, and a career that has provided me with opportunities to educate and mentor learners. I am humbled to be considered for this position with the Section of Pharmacy Educators, and I look forward to working with ASHP, thought leaders, and others to continue preparing for and advocating for those that hold the future of our profession.