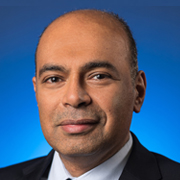 Magdi H. Awad, PharmD, MSA ([email protected]) is an associate professor of pharmacy practice at Northeast Ohio Medical University (NEOMED). Additionally, he is the founding director of pharmacy at AxessPointe, a federally qualified health center with five locations at northeast Ohio. His responsibilities at AxessPointe include expanding the clinical pharmacy services, overseeing the onsite community and specialty pharmacies, and precepting the pharmacy residents and students at AxessPointe. Magdi's expertise is in primary care services, pharmacy administration, and 340B pricing program. Magdi received his Doctor of Pharmacy and residency training at the University of Minnesota. He completed a fellowship in academic medicine and received his Master of Science in Pharmacy Administration at NEOMED.
He currently serves ASHP as a chair, Section Advisory Group (SAG) on Business Development and Practice Excellence for the Section of Community Pharmacy Practitioners. Previously, he served on the SAG on Compensation and Practice Sustainability for the Section of Ambulatory Care Practitioners. He is a frequent reviewer for AJHP since 2018 and has co-authored multiple documents on ASHP's Ambulatory Care Resource Center.
Magdi is the chair for the Ohio Medication Therapy Management Consortium, sponsored by the Ohio Department of Health. He is a founding student organization advisor to the Student Run Free Clinic on campus and a member of the Refugee Health Taskforce for the Summit County Public Health. Magdi has received multiple awards and recognitions, including the 30 for the Future Award, the Dean's Leadership Award, the Most Influential Faculty Award, Pharmacy Preceptor of the Year, and Who to Watch in Healthcare.
Community pharmacies have the potential to provide needed primary care and prevention services and to alleviate disparity and medication access issues. Yet, we are facing many hindering challenges. Besides staffing concerns, significant challenges arise from the inadequate reimbursement and anticompetitive practices deployed by many pharmacy benefit managers (PBMs). As many governmental entities and legislative bodies are investigating PBMs, the time is now to expose their practices and advocate for patients' choice of pharmacy provider and for reimbursement and contracting transparency. I look forward to a strong advocacy campaign that includes ASHP and other interested organizations to explain the dire situation, its impact on patient care, and the potential solutions.
On a positive note, I applaud the section's efforts to define the significant role of community pharmacy practitioners and to showcase innovative practices and opportunities to maximize that role. Despite being a new section, the section has produced many valuable resources, thanks to its engaged and committed members. With this energetic start, we are poised to continue to reimagine our role as community pharmacy practitioners to meet the needs of our patients and communities.
With the collective skills and experiences in our section, I feel very strongly about the section's ability to make a great impact on community pharmacies. To that extent, I will bring to the section my experience in establishing and integrating both clinical and dispensing services at AxessPointe and my successful advocacy experience in Ohio, including expanding our scope of practice, provider status, enhanced reimbursement, and 340B protections.