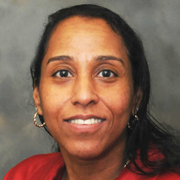 Marie A. Chisholm-Burns, PharmD, PhD, MPH, MBA, FACHE, FASHP, FAST ([email protected]) is the executive vice president and provost of Oregon Health & Science University (OHSU) and the J.S. Reinschmidt Endowed Professor in the OHSU School of Medicine. She is also founder and director of the Medication Access Program, which has helped over 1100 solid-organ transplant recipients receive more than $112 million in prescription medications.
Chisholm-Burns received her BS in Pharmacy and Doctor of Pharmacy degrees from the University of Georgia, a Master of Public Health degree from Emory University, a Master of Business Administration degree from the University of Memphis, and a Doctor of Philosophy degree (emphasis: Health Sciences) from the University of South Dakota. She completed her residency at Piedmont Hospital and Mercer University Southern School of Pharmacy in Atlanta, Georgia.
Chisholm-Burns has been an active member of ASHP for 30 years. She served as the inaugural chair of the ASHP Section of Pharmacy Educators Executive Committee and is currently the immediate past chair. She is a member of the Pharmacy Forecast Advisory Committee and contributed to several Forecasts over the years, including 2023 (focused on health disparities) and 2021 (focused on healthcare access). She previously served in several ASHP leadership positions; for example, she served as director-at-large of the ASHP Section of Clinical Specialists and Scientists Executive Committee, as a member of the Center for Health-System Pharmacy Leadership Advisory Panel, and as a member of the AJHP editorial board. Additionally, Chisholm-Burns has received several awards from ASHP, including the 2022 Distinguished Leadership Award.
The health of our communities is paramount, but cannot be achieved without equitable healthcare access and delivery. My vision for pharmacy practice is to promote access and success – specifically, access to healthcare and success in eliminating health disparities and optimizing patient outcomes. Throughout my career, I have highlighted the value of pharmacists in advancing access and success in patient care. With support from others, including ASHP and its members, I documented extensive evidence of the beneficial effects of pharmacist-provided direct patient care. Such evidence supports inclusion of pharmacists in interprofessional healthcare delivery models as a strategy to increase access, improve outcomes, and reduce healthcare costs (this research has been published, presented nationally, and received multiple awards).
To ultimately achieve this vision of access and success, however, we should be cognizant of challenges facing healthcare professionals, including pharmacists, particularly issues related to stress/burnout. We must work together to facilitate well-being and supportive work environments. Further, we should enhance diversity, equity, and inclusion, not only for patients and communities we serve but also for members of our profession. And we should strive to promote access and success by:
Advocating for pharmacists to practice at the top of their license
Supporting patients, pharmacy students, and pharmacists
Expanding practice and care delivery, including greater participation on interprofessional healthcare teams
Focusing greater attention on outreach in underserved and marginalized populations
I am greatly honored to be nominated for the ASHP Board of Directors. It would be my privilege to serve the esteemed membership of ASHP.