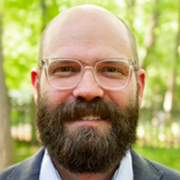 Martin A. Bishop, PharmD, MS, BCACP ([email protected]) is an associate director of pharmacy analytics for OptumInsight. In this role, he leads medication use-related operations and maintenance as well as strategic innovation for population health management and healthcare value measurement products. Prior to this, he practiced for over nine years at The Johns Hopkins Hospital as an ambulatory care clinical specialist in internal medicine, anticoagulation, and population health management. There, he wrote policy to enhance pharmacists' provider status through credentialing and privileging, supported collaborative practice, and developed population health management services as a part of value-based care. Martin graduated from the Texas Tech University Health Sciences Center School of Pharmacy before completing a pharmacy practice residency at the UT Southwestern Medical Center in Dallas, TX, a PGY2 ambulatory care-specialized residency at The Johns Hopkins Hospital in Baltimore, MD, and a Master of Science in healthcare management. He is board-certified in ambulatory care.
Martin has served as an active member of ASHP since 2006 with local, regional, and national committee roles, most recently in the Section of Ambulatory Care Practitioners (SACP) Advisory Groups on Clinical Practice Advancement and Medication Management Services, where he currently serves as chair. Through this service, he has developed and contributed to SACP resources and podcasts and has also published manuscripts in AJHP and delivered several ASHP national meeting presentations. ASHP's Research and Education Foundation recognized him with a practice-based research grant in 2013, focused on pharmacist-managed INR testing for patients with left ventricular assist devices.
Ambulatory care continues to be the most exciting section of ASHP, with incredible opportunities realized into growing clinical services. Pharmacists are increasing access to lower costs services for health systems while increasing patient satisfaction and population health. Provider status and scope of practice have expanded in the past several years in numerous states, allowing pharmacists to complement other providers in team-based care with growing independence and sustainability. ASHP should continue building on this momentum with government advocacy and relevant messaging to the public to expand collaborative practice, provider status, and participation in value-based payment models.
Following guidance from recent ASHP Forecasts, our section has an opportunity and responsibility to work in partnership with the Section of Pharmacy Informatics and Technology and other workgroups to improve patient care delivery through technology. For example, partnerships between community, academic, and analytics organizations can provide opportunities to improve comprehensive medication management using advanced patient identification and stratification, either by co-development or sharing of best practices. Creative solutions come naturally to working pharmacists, and participation by clinical minds in the development of this technology is key to success. Throughout my time working directly with section advisory groups (SAGs) in this section over the last 10 years, I've seen the value of collaboration between ambulatory care colleagues. I'd be honored to continue to serve the section as a director-at-large.