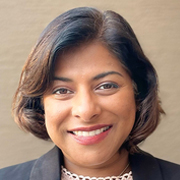 Nisha M. Mathew, PharmD, BE, MBA, BCPS ([email protected]) is the director for medication safety and pharmacy regulatory services at Cleveland Clinic Florida (1028-beds over 5 hospitals, and ambulatory locations). Prior to this, she practiced as clinical coordinator and inpatient clinical pharmacist in a variety of settings, including oncology, infectious disease, intensive care, infusion center and anticoagulation clinic over the last 15 years. She has appointments as clinical assistant professor within the colleges of pharmacy at Nova Southeastern University, Palm Beach Atlantic University, and the University of Florida. Mathew graduated from the University of Illinois at Chicago, College of Pharmacy before completing her PGY1 pharmacy practice residency at Froedtert and the Medical College of Wisconsin in Milwaukee.
Mathew's leadership includes serving on the ASHP Section of Inpatient Care Practitioners Advisory Group on Medication Management, peer reviewer for ASHP Midyear Clinical Meeting educational session proposals, hosting ASHP Hot topics regulatory podcast episode, in addition to serving as the student president of the University of Illinois Student Society of Health-System Pharmacy . Mathew is a member of the ASHP Well-Being Ambassador Program and has completed the ASHP Medication Safety Certificate Program. Regionally, Mathew serves as founding chair of the Medication Safety Forum at Florida Society of Health System Pharmacists.
I am passionate about clinical and operational pharmacy, a transformational leader, and always willing to listen and learn. Succession planning, facilitating innovation, mentoring and hot topics in pharmacy are important to me to keep pharmacy practice safe, quality-based, efficient, and profitable. Teaching the next generation of pharmacy practitioners while demonstrating flexibility, prioritization, and empathy is pivotal to have any workforce that can ensure work-life integration while serving the evolving needs of our diverse communities. Decreasing reimbursement rates and supply chain constraints in addition to regulatory changes have made the challenges similar for many inpatient care practitioners. I believe in advocating for pharmacy needs and obtaining tools that allow us to work with optimized resources. I strive to use technology based or sustainable resources to allow networking and sharing.
I am greatly honored to be nominated as chair for the Section of Inpatient Care Practitioners, as this section is diverse in practice setting and needs while serving as the frontline pharmacy workforce. If chosen, I look forward to supporting the group with identified challenges and generating resources pertinent to practice, ranging from drug diversion, medication stewardship, advocacy, and pharmacy hot topics such as white bagging, well-being, drug shortages, and compounding, among others. I aim to serve our practitioners needs to advance the profession and provide the best and safe care for our patients.