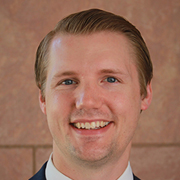 Paul E. Gaura, PharmD, APh, BCACP ([email protected]) is the patient care services manager and residency program director for the Southern California division of Albertsons Companies. Gaura received his PharmD degree from Rosalind Franklin University College of Pharmacy in North Chicago, IL. He completed a PGY1 community-based pharmacy residency program with Albertsons Companies and University of Illinois at Chicago.
Gaura has been involved with ASHP through membership and attending meetings like the Midyear Clinical Meeting and the National Pharmacy Preceptors Conference. As a residency program director, he works closely with ASHP through residency recruitment and adherence to accreditation standards.
He is currently chair of the SCPP Section Advisory Group on Education, Communication, and Training.
This section has shown ASHP's continued dedication and support for community pharmacy. The community pharmacy workforce has seen numerous challenges throughout the past few years. Despite the phenomenal efforts to vaccinate and protect our communities, pharmacists have been struggling with burnout and lack of resources. I have seen this firsthand and want to help improve and strengthen community pharmacists.
Being involved in this section has made me realize how much collaboration and teamwork are integral in identifying areas of improvement and opportunities for growth. Through my advisory group, we frequently brainstormed ideas and used our diverse pharmacy experiences to understand the specific needs of the community pharmacy workforce. I will work with ASHP to continue providing excellent resources and support for community pharmacists. Additionally, I will work hard to understand the needs of our pharmacists and do my best to meet and exceed them in this role.