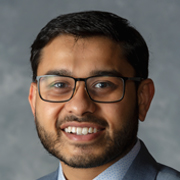 Rushabh M. Shah, PharmD, MBA, AAHIVP, CSP ([email protected]) is the system director for specialty and home delivery pharmacy at UNC Health. In this role, he is responsible for directing specialty and home delivery pharmacy operations, strategies, policy and procedures, budget process as well as organizational performance improvement, quality management and evidence-based outcomes. Shah is also a preceptor for the UNC HSPA residency and UNC Eshelman School of Pharmacy Advanced Immersion Programs.
Shah earned his BS in Pharmaceutical Sciences and PharmD in 2014 from Purdue University. He also graduated with his MBA in 2017 from Goldey-Beacom College. He successfully completed the Healthcare Executive Leadership program from University of Kentucky in 2022. He has certifications for the Lean Six Sigma Green Belt, HIV Pharmacist (AAHIVP) and Certified Specialty Pharmacist (CSP).
Shah has been an active member of ASHP, currently serving as the chair for Accreditation and Compliance Section Advisory Group within the SSPP section. Shah has been involved with the ASHP Executive Forum on Cold Chain Management, ASHP Specialty Pharmacy Certificate, ASHP Pharmacy Forecast Survey, coauthored publications in AJHP, and has given poster and podium presentations at ASHP meetings.
Specialty pharmacy is rapidly expanding and will continue to play a vital role due to the introduction of new specialty medications and the increasing costs associated with specialty diseases. As the scope of this practice broadens, so too will the challenges faced by specialty pharmacies. Health-system specialty pharmacies (HSSPs) are well-positioned to enhance patient experiences for complex populations with chronic medical conditions. HSSPs can leverage data from electronic medical records to identify potential risks and opportunities for intervention leading to improved patient outcomes. HSSPs can also utilize their relationships with internal and external stakeholders to provide optimal patient care while identifying cost-saving opportunities for patients and minimizing financial burdens.
ASHP has been a vocal advocate for the value of HSSPs, and has led the way in regulatory advocacy, the management of drug shortages and costs, accreditation, and external stakeholder engagement. Given the current landscape and disruptions faced by the specialty pharmacy, there are opportunities to collaborate with manufacturers, payers, providers, and other health systems to improve patient outcomes. It is also imperative to promote health equity by advocating for policies and procedures that ensure equitable access to specialty medications and services. As a chair, I plan to lead efforts of partnership with key stakeholders, build stronger relationships while encouraging an open exchange of ideas, and continue to advocate on behalf of HSSPs.
I gratefully accept the nomination as the chair of the section and look forward to continuing to serve in the advancement of our profession.