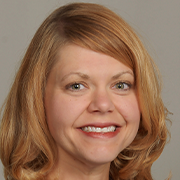 ALLISON KING, PHARMD, FASHP ([email protected]) is an Investigational Drug Pharmacist and PGY1 Residency Director at Children's Mercy Hospital in Kansas City, Missouri. Previously, she served a Assistant Professor of Pharmacy Practice at the University of Kansas School of Pharmacy and practiced in the Drug Information Center.
King earned her PharmD from the University of Missouri – Kansas City and completed an ASHP-accredited Drug Information residency at the University of Kansas Hospital. She is currently pursuing her Masters in Healthcare Administration at Texas Tech University.
King is an active member of ASHP. She is currently the Director-at-Large for the Section of Inpatient Care Practitioners (SICP). Previously, she served on the SICP Advisory Group on Pharmacy Practice Experiences Precepting for five years with leadership roles as Vice Chair and Chair and on the New Practitioners Forum Professional Practice Section Advisory Group. Additional ASHP service includes PGY1 Residency Accreditation Practitioner Surveyor, editorial reviewer for multiple ASHP publications, and multicycle CV and poster reviewer. King is an author on over 20 manuscripts and has presented multiple posters at the ASHP Midyear Clinical Meeting. She has delivered presentations at the Midyear, taped multiple ASHP webinars/podcasts, and has also held leadership roles on the executive boards for state and local ASHP affiliate chapters.
ASHP has been a cornerstone in my career by giving me the support, resources, and voice needed in the evolving landscape of healthcare. The Section of Inpatient Care Practitioners (SICP) provides invaluable support and tools for practice issues that may not be taught or learned elsewhere. It is evident that the developed education and materials are wisely chosen to address the ever-changing and widely-varying needs of the frontline of pharmacy practice.
Continuing our commitment to our patients and people is key. Patient safety is paramount, and provider status for pharmacists is crucial to ensuring safe and effective care. Ongoing efforts are needed to prevent burnout within our profession, especially given our desire to advance practice and teach others while balancing drug shortages, best practice models, and regulatory changes amidst an ongoing pandemic. Existing efforts are needed to cultivate all avenues pertaining to drug distribution, sterile compounding and COVID19 while new efforts are needed to address the opioid epidemic and future pandemics.