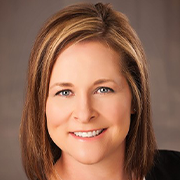 AMY S. SIPE BSPharm ([email protected]) is an Academic Detailer for Veterans Integrated Service Network (VISN) 15, U.S. Department of Veteran Affairs and was among the recipients awarded the Under Secretary for Health Pharmacy Benefits Management Innovation Award.
Sipe completed her Bachelor of Arts in Chemistry at Central Methodist University before completing her Bachelor of Science in Pharmacy at the University of Missouri – Kansas City.
Sipe currently serves as the Secretary of the Section of Clinical Scientists and Specialists (SCSS) Educational Steering Committee. Her service to ASHP includes Chair of the ASHP Council on Therapeutics and speaker for the Leadership Speaker's Bureau. She is a frequent presenter at ASHP meetings and has developed and contributed to ASHP podcasts and Twitter chats. Sipe has served as SCSS Network Facilitator for Anticoagulation, Women's Networking Session discussion group facilitator, member of the Section Advisory Group on Clinical Leadership and as faculty for Board Certification Review Courses for Pharmacotherapy. She is a past president of the Missouri Society of Health System Pharmacists and will represent Missouri for the 9th occasion in the ASHP House of Delegates.
The expansion of pharmacist and technician roles is the best way for our healthcare system to improve patient access to quality healthcare. To further advance these roles, we must stay connected to members' unique needs and deliver swift response through advisory groups, educational steering committees, roundtable discussions and resource centers.
Every health system has its own unique community, and the role of the pharmacist is integral in improving outcomes in these distinctive and diverse healthcare environments. Our shared purpose of identifying and overcoming barriers to clinical care while providing education, guidance, and advocacy for our members is increasingly critical.
As Chair of the SCSS Executive Committee, I will bring my skills and unique experience as a VA Pharmacist, Academic Detailer, and long-standing ASHP volunteer leader to the team. I desire to create an atmosphere where members of the pharmacy workforce can further develop their distinctive talent and realize their most significant impact.
It is an honor to have been nominated, and I look forward to the opportunity for continued service to our patients, our members, and the profession.