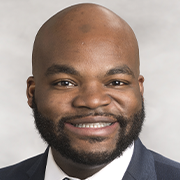 ANTHONY C. SCOTT, PharmD, MBA ([email protected]) is the Director of Pharmacy Services at Emory University Hospital in which he oversees all acute care services for the inpatient department. He obtained his PharmD from The University of Georgia and his MBA in Healthcare Management from New England College. He completed a PGY1 Pharmacy Practice Residency at Piedmont Hospital in Atlanta, GA and then completed his PGY2 Health-System Pharmacy Administration Residency at the North Florida - South Georgia VA Medical Center in Gainesville, FL. He is also a diplomat of the ASHP Foundation Pharmacy Leadership Academy.
Prior to Emory, he served as the Assistant Director of Pharmacy Operations at The University of Chicago Medicine (UCM) and was also the PGY1/2 Health-System Pharmacy Administrative Residency program director at UCM. Anthony has been an active member of the American Society of Health-System Pharmacists (ASHP), currently serving as the Chair for the Section of Pharmacy Practice Leaders (SPPL) Educational Steering Committee (ESC). He is also representing the state of Georgia this year with the ASHP House of Delegates. He has previously served as the Vice-Chair for the ESC and was a workgroup coordinator for section advisory group on Operations & Leading Change. He has been an ASHP Foundation Research Project Member on RFID technology and development. He also served on the Committee on Nominations for the SPPL. He has also been active with the Georgia Society of Health-System Pharmacists (GSHP) since returning to the state of Georgia, currently serving on the Professional Affairs and Communications Committees.
As we all face the challenges of practicing in a dynamic healthcare environment, I believe that this section has equipped me with many resources and tools to contribute towards making a meaningful impact on pharmacy practice within health-systems. Reflecting on my years of service as pharmacy leader and member of ASHP, I firmly believe that I have gained the most personally and professionally from the organization's professional advocacy and efforts to develop leaders and practitioners. Our section will continue to be engaged on topics related to organizational change management, succession planning, financial stewardship, patient safety, diversity and inclusion, and adapting to the rapidly changing healthcare landscape. We all have a call to continue this work and I am honored to have the opportunity to contribute in this capacity. I realize that the agenda for elected officials will be to find ways to meet the needs of the section membership and represent the various committees and section correspondents. Achieving these objectives in this role would also help me to reinforce the future of our profession with both our technician and pharmacist partners across the country.
I also think about the mission and vision of the organization and the charge to represent pharmacists in all healthcare settings, not just inpatient pharmacy. If elected, I will be very inclusive and supportive of our goals to serve the membership. I genuinely thank you for your consideration of my candidacy to be Director-At-Large and I look forward to leading and making a positive difference!