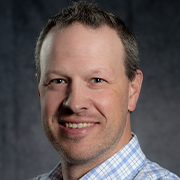 BRODY J. MAACK, PharmD, BCACP, CTTS ([email protected]) is an Associate Professor of Practice and current Vice Chair of Pharmacy Practice at the North Dakota State University (NDSU) School of Pharmacy, where he earned his PharmD in 2006. He then completed a postgraduate year 1 (PGY1) residency at Lake Region HealthCare Corporation in Fergus Falls, MN in 2007. He is also a Clinical Pharmacy Specialist at Family HealthCare clinic in Fargo, a federally qualified health center, where he sees patients and precepts APPE students in an office-based setting for comprehensive medication management, including disease state management with use of collaborative prescribing authority. He has had the opportunity to spearhead several initiatives in the clinic, recently including remote patient blood pressure monitoring, community paramedic collaboration, and implementation of various chronic disease programs such as tobacco cessation, hypertension, diabetes and depression. Maack also serves as a CAP Center Scientist in the NDSU Center for Collaboration and Advancement in Pharmacy.
Maack currently serves as a member of the ASHP Section Advisory Group (SAG) on Compensation and Practice Sustainability. Previously, he served as Chair and Vice Chair of the SAG on Medication Management Services. He has served as state delegate in the ASHP House of Delegates and is Past President of the North Dakota Society of Health-System Pharmacists. He has also served on the Section of Ambulatory Care Practitioners Committee on Nominations, has co-authored several ASHP-endorsed documents, including a book chapter, forthcoming ASHP Statement update on the Role of the Pharmacist in Primary Care and the Ambulatory Care Resource Center document on billing for pharmacist services in Federally Qualified Health Centers, and was faculty for the ASHP Telehealth Certificate program.
What an incredible time to be an ambulatory care practitioner, and member of ASHP! The strides taken by our profession while coming into and through a global pandemic have invigorated great opportunity. With evolving payment models, advancements in scope of practice and recognition, and increasingly innovative practice environments, we are well positioned to continue growing and improving patient care and health outcomes.
Much of the growth in ambulatory care has been facilitated by the hard work of our Section members. It is imperative that we continue to build upon the resources and education to allow our members and learners to positively impact the profession. We must also focus on well-being and resilience to ensure we are equipped to navigate the challenges of the complex healthcare environment, while striving to enhance diversity, equity and inclusion in patient care, our profession and our community.
Through the various roles as a servant and leader in ASHP and the Section, I have been impassioned by the drive to push ambulatory care practice forward. Experiences gained through working with talented Advisory Group practitioners give me confidence that we can continue to achieve provider status in more states and ultimately at the national level, while seeking sustainability through payment reform. I am prepared to serve as Chair and advocate for continued work toward achieving these goals and continue the magnificent work of our current and past Section leaders. It is a tremendous honor to be nominated, and a privilege to continue serving the Section.