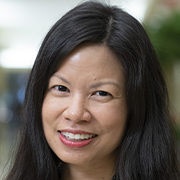 CHER Y. ENDERBY, PharmD, BCPS, BCNSP ([email protected]) is the Manager of Education and Staff Development at Mayo Clinic in Florida. She is the PGY1 Pharmacy Residency Program Director, Pharmacy Student Program Director, and the Mayo Clinic Technician Training Program Assistant Program Director. She supports educational efforts for the department, including training, competencies, and professional development. Enderby received her Doctor of Pharmacy from the University of Florida and completed a PGY1 pharmacy practice residency at Florida Hospital in Orlando. She worked clinically in Solid Organ Transplant for several years prior to assuming her current role. Enderby is a Board-Certified Pharmacotherapy Specialist and Board-Certified Nutrition Support Pharmacist. She is an Assistant Professor of Pharmacy with the Mayo Clinic College of Medicine.
Enderby was appointed to the inaugural Section of Pharmacy Educators Executive Committee and is completing her term as Director at Large. Her service to ASHP includes involvement with the ASHP Section of Clinical Specialists and Scientists Section Advisory Group on Preceptor Skills Development and the ASHP Section of Inpatient Care Practitioners Section Advisory Group on Pharmacy Practice Experiences Precepting, where she served as Chair. Enderby has been involved as an ASHP poster mentor, CV reviewer, moderator, and presenter. She is an active member of the Florida Society of Health-System Pharmacists participating on councils and is a Past President of the Northeast Florida Society of Health-System Pharmacists.
The ASHP Section of Pharmacy Educators (SPE) combines my passion for pharmacy, education, and the advancement of the pharmacy workforce. Contributing to the development of the mission, vision, and strategic goals of this section as an inaugural member of the Section Executive Committee and seeing progress made thus far within the section has been rewarding. I am excited about the opportunity to continue my service to SPE and keep the momentum going for its continued success.
The mission of SPE is "to support pharmacy educators in preparing, engaging, and advancing the pharmacy workforce to optimize health." SPE is the home for ASHP members involved in any aspect of pharmacy education. Representation and input from pharmacy educators in various roles is important to ensure we are aware of and address relevant and timely issues affecting pharmacy educators. My goal is to work collaboratively with our members, the Section Advisory Groups, and the SPE Executive Committee to ensure the section is moving in a positive direction and the needs of pharmacy educators are met.
Ensuring pharmacy graduates are well-equipped to enter the workforce, preparing pharmacists and pharmacy technicians to take on expanded and specialized roles, providing resources to support pharmacy educators, and addressing the demand for the pharmacy workforce are some critical areas of focus.
I am honored to be nominated for Chair of SPE. It would be a privilege to serve all of you and ASHP in this capacity.