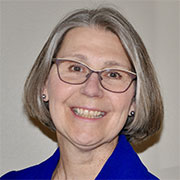 CHRISTENE M. JOLOWSKY, BSPharm, MS, FASHP, FMSHP ([email protected]) is the Senior Pharmacy Director for Hennepin Healthcare System, Minneapolis. She completed her BSPharm and MS in Pharmacy Administration at the University of Minnesota and a two-year ASHP-accredited administrative residency at the University of Minnesota Hospital. She is an Assistant Professor at the University of Minnesota College of Pharmacy, teaching in both the PharmD and graduate curriculums.
In her current role, she is responsible for inpatient, retail, and clinic-based pharmacy services for the system and the Poison Control Center. Chris has led teams around patient safety and clinical service initiatives. Her expertise is in clinical and operational performance improvement. Key accomplishments include promoting technician, student, and residency training and expanding the roles and scope of practice for pharmacists.
Chris is the current Treasurer of ASHP and the ASHP Foundation. Her service to ASHP includes serving as President and on the Board of Directors and serving on many councils, committees, and task forces for ASHP and local and state health-system chapters. She has been a Minnesota delegate to ASHP's House of Delegates and served as President of the Minnesota Society of Health-System Pharmacists (MSHP). She is a Fellow of both ASHP and MSHP.
Chris was honored with the Distinguished Service Award for the ASHP Section of Pharmacy Practice Managers in 2009, the University of Minnesota College of Pharmacy's Preceptor of the Year and MSHP's Hallie Bruce Award in 2005, and the MSHP Hugh F. Kabat Award in 2012.
Meet Christene M. Jolowsky
Pivot, wellness, grit, and resiliency. These are just a few of the terms which have become mainstream over the past several years. We have faced and transcended a pandemic and have navigated new territories in the provision of care to our patients, our colleagues, and ourselves. These territories also extend to ASHP, as we've navigated the pandemic while staying focused on our mission toward patient care in the management of medication use. And we have needed to pivot and respond as well.
As Board members, we have a duty to provide oversight to the actions of ASHP, on behalf of the members. Specifically, as Treasurer, this duty includes being a link for our members and the Board, focusing on the financial aspects of our Society. This includes assuring we continue to devote resources to areas that support our members in continuing to provide care and grow services in this turbulent, whitewater world of healthcare.
I am proud of the decisions and the work ASHP has accomplished through the past several years to be strategic with our decisions focusing on maintaining services and managing costs. I am honored by this nomination, and I look forward to the opportunity to continue to serve the Society as Treasurer.