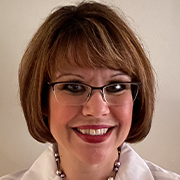 DENISE L. SCARPELLI, PharmD, MBA ([email protected]) is the Executive Director of Ambulatory Pharmacy and Business Development at the University of Chicago since 2017, overseeing the strategy and operations for retail, specialty, mail order, and infusion Pharmacy. Previously she has held many leadership roles at Walgreens, leading Pharmacy Operations in Chicago for over 20 years.
She earned a Doctorate of Pharmacy from the University of Illinois at Chicago- College of Pharmacy in 1996 and a MBA from Southern Illinois University Edwardsville in June of 2021.
She is currently serving as the chair of the Illinois Board of Pharmacy and on the Dean's Advisory Board for Midwestern College of Pharmacy. Denise has served as the Chair and Vice-Chair of the ASHP Section of Specialty Pharmacy Practitioners Section Advisory Group (SAG) on Business Development. She is an active member of the Illinois Council of Health-System Pharmacists.
Specialty pharmacy business has been growing rapidly over the last 20 years and continues to change and evolve. Everyday leaders of specialty pharmacy are faced with many challenges from payer restrictions, 340B limitations, limited drug distribution from the manufacturers, and ever-changing requirements from the accrediting bodies. I believe that as health system specialty pharmacies work together and share best practices; we can create solutions for these challenges. By working together, we will be successful.
I am honored and thankful to be nominated for this Section. In just a few years, this new Section has done great work and provided valuable resources to the specialty pharmacy members. They have addressed head-on the challenges specialty pharmacy is experiencing and provided solutions. Serving as Vice-Chair and Chair of the SAG on Business Development the last two previous years has been rewarding and today as an active member of this SAG, and I am proud of the work the committee produced together. If elected, I will continue the great work of this Section and support each of your specialty pharmacies to address the challenges and develop solutions for continued success.