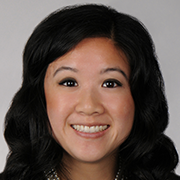 EMMELINE M. TRAN, PharmD, BCPS ([email protected]), is an Assistant Professor at the Medical University of South Carolina (MUSC) College of Pharmacy and Clinical Specialist in internal medicine at the Ralph H. Johnson Veterans Affairs Medical Center. She completed pharmacy school at the University of Utah and pharmacy practice and internal medicine residencies at MUSC.
Tran currently serves as the Chair of the Section of Inpatient Care Practitioners Advisory Group on Pharmacy Practice Experiences Precepting, and had previously been a member and Vice Chair. Additional ASHP service includes member of the New Practitioner Forum Professional Practice Advisory Group, multicycle CV reviewer, and presenter at ASHP meetings.
I wholeheartedly believe in the adage "our future lies in education"—the power of learning and investing in learning are key to responding to the increasing complexities of being and practicing in the healthcare field. Cultivating a culture of lifelong learning ensures the resiliency, sustainability, and advancement of our profession. This Section embodies what it means to foster learning and empower others to do the same. It calls to my inner lifelong learner.
My learners will frequently hear me say "you don't know what you don't know." I find myself continually drawn to experiences where there are opportunities to gain exposure to signal what one may not know and avenues to then learn, apply, and share with others. This Section is one such platform. I am committed to serving as a voice to learn from one another, to championing initiatives to meet the needs of our members, and to incorporating innovative approaches to address challenges experienced.
Thank you for the honor of this nomination. I have immense gratitude in having ASHP be a part of my learning journey. I find myself extremely fortunate to be a part of a group that promotes the value of working with like-minded individuals who are inspired to continue to challenge the status quo, that emphasizes the creation of safe environments to share ideas, and that values the applicable. Again, it is an honor to be nominated and I greatly appreciate the opportunity to serve this Section, ASHP, our learners, and our patients.