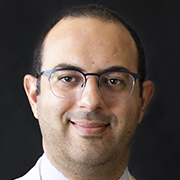 HESHAM MOURAD, PharmD, EMBA, BCCCP, BCPS, CPHIMS ([email protected]) is a Medication Management Informaticist at Mayo Clinic and an Assistant Professor of Pharmacy at Mayo Clinic College of Medicine and Science. His primary responsibilities are to support and optimize medication-related changes in the electronic medical records systems. Within his role, Dr. Mourad is a member of committees that oversee medication safety and smart pumps drug library. He is also a member of the Pharmacy Education Advisory Committee. He serves as primary preceptor for Pharmacy Informatics learning experience within the PGY1 program. He earned his PharmD from Purdue University. He completed a PGY1 residency at the Hazard ARH Regional Medical Center, Kentucky. After practicing as clinical pharmacist for two years, he completed the Critical Care Traineeship from the ASHP Foundation and a PGY2 Pharmacy Informatics residency with Indiana University Health, Indiana. He is board-certified in Pharmacotherapy and Critical care; he is also Certified Professional in Healthcare Information and Management Systems. Dr. Mourad has been an active member of Section of Pharmacy Informatics for the last eight years. His previous services include Chair and Immediate Past Chair for the Clinical Application Advisory Group, serving as a Work Group Lead within the Section Advisory Group and representing ASHP within the Pharmacy HIT Collaborative.
"Today the only thing that is permanent is change." -Dr. Charlie Mayo. We are living in a time where technology intersect with every aspect of our lives, and to be able to provide excellence in health care delivery, we must be creative in utilizing technology for our advantage.
Our profession is at the verge of multiple short- and long-term opportunities. To be able to take advantage of these opportunities while staying agile and proactive to every unpredicted challenge, this Section will need to continue providing exceptional leadership. Together we can continue the Section mission providing guidance on the use of health information technology to enhance medication use processes, transforming pharmacy practice, and helping reshape healthcare to overcome upcoming challenge.
I am proud to be part of this profession and I am delighted to have worked with so many passionate and expert pharmacists in the Clinical Application SAG over the past eight years. Many good projects have been completed, and I am enthused and excited about all possible future collaboration with the member of our community to continue this work as chair of the section. Thank you for your consideration and what an honor.