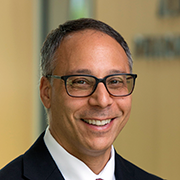 JAMES A. TROVATO, PharmD, MBA, FASHP ([email protected]) is Professor and Vice Chair of Academic Affairs at the University of Maryland School of Pharmacy in Baltimore. He also serves as the Pharmacist Research Advisor for the Pharmaceutical Research Computing (PRC) Center in the Department of Pharmaceutical Health Services Research and Administrator for Continuing Education, University of Maryland School of Pharmacy.
Trovato has a demonstrated history of leadership and management in pharmacy education. He is skilled in oncology therapeutics, instructional design, clinical pharmacology, and curricula development and assessment. Trovato completed a BS in pharmacy from the Massachusetts College of Pharmacy, a PharmD degree from Purdue University, and an ASHP-accredited oncology residency at the University of Texas Health Science Center at San Antonio.
Trovato's recent ASHP involvement includes member, ASHP Board of Canvassers; member, Forecast Survey Panel for the ASHP Foundation's Pharmacy Forecast report; ASHP Faculty Liaison; and Faculty Advisor to the University of Maryland School of Pharmacy SSHP. He is Past President of the Maryland Society of Health-System Pharmacists. Trovato has served ASHP as Chair, ASHP Board of Canvassers; Vice Chair, FASHP Recognition Committee; Chair, House of Delegates; member, ASHP Board of Directors; Chair and director-at-large, Executive Committee of the Section of Clinical Specialists and Scientists; Chair, Council on Educational Affairs; and multi-year ASHP delegate.
Meet James A. Trovato*
*James A. Trovato was unable to attend the ASHP Summer Meeting in Phoenix, AZ. Linda Tyler read his candidate statement on his behalf.
I believe the following characteristics are critical to allowing the ASHP Treasurer to be considered a valued member of the ASHP Board of Directors:
Detail oriented, organized, and methodical
Strong moral compass
Transparent with their fellow Board members
Committed to fulfilling their responsibilities
Strong interpersonal and communication skills
Knowledgeable of the ASHP's governing documents
I believe these characteristics are necessary to educate and guide ASHP Board members to use funds for the betterment of ASHP and its members. The Treasurer should have a vision for how ASHP can improve their long-term financial success to better serve our community in the future.
I believe having strong financial health allows ASHP to provide our members with the necessary tools, resources, and educational activities that enable them to provide preventive care services and optimize and be accountable for the health and medication outcomes of our patients.
I am humbled to have received this nomination and would welcome the opportunity to serve the pharmacy profession as Treasurer of ASHP.