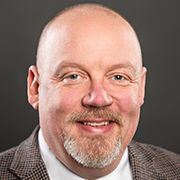 JEFFREY A. FENERTY, BSPharm, RPh ([email protected]) is the Director of Retail Pharmacy Services for Marshall Pharmacy Inc. Fenerty received his Bachelor of Science in Pharmacy from The Philadelphia College of Pharmacy and Sciences. Fenerty was also brother of Phi Delta Chi Fraternity. Fenerty is a member of the ASHP Community Pharmacy Practitioners and Section of Specialty Pharmacy Practitioners. Fenerty is the Residency Program Director for the ASHP Marshall Health Community Pharmacy PGY1 Accredited Residency Program.
Fenerty serves as adjunct faculty for the Marshall University School of Pharmacy and precepts students in pharmacy Management. In 2020 Fenerty was awarded the "Upsher Smith Excellence in Innovation Award." by the West Virginia Pharmacists Association for work in developing the Ambulatory Clinical pharmacy practice, Management and Specialty Pharmacy business.
Fenerty was formerly a Director of Validation Services for cGMP which validated processes and equipment for manufacturers, pharmacies, clean rooms, and compounding equipment. Prior to cGMP, Fenerty was Director of Sterile Compounding at Pharmalogic, a startup 503b compounding company. Fenerty served as District Manager for Walmart Pharmacy in Southern West Virginia and Ohio.
Fenerty Served as The President of the Tioga/Potter Pharmacy association for two years. Fenerty is also active in advancing law in West Virginia to support patient choice Senate bill 4112, 340B programs and patient choice Senate bill 4112, and other regulations Senate bill 4324 to promote collaborative practice/provider status in community pharmacy practice.
I have had a long a varied career ranging from independent to chain and now health-system retail pharmacy. Having worked the bench for many years I understand the plight of the retail pharmacist and the day to day struggles. If ever a profession has had to learn to do more with less, it is retail pharmacy. We carried the load through the Covid pandemic administering thousands of shots and all the while running our regular business. Reimbursements have been slashed as volume has grown. Every profitable piece of our business has been attacked, 340B, reimbursements and overwhelming regulations plague the community pharmacist.
We need to work to maintain community pharmacy. All groups of pharmacy should be able to participate in taking care of patients. I will work to untie the hands of pharmacists and help them to do what they do best, take care of their patients.
I have been part of lobbying in West Virginia to retain the benefits of 340B program for our state's hospital systems and to retain access for patients to go to their pharmacy of choice. We have successfully reputed the forced reporting of 340B claims to benefits managers looking to undermine benefits to the entities.
My goal at Marshall Pharmacy Inc. is to ensure no patients leave our facility without the vital medications they need.