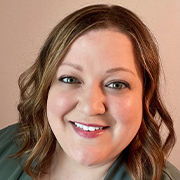 JENNIFER D. ARNOLDI, PharmD, BCPS ([email protected]) is the Assistant Director of Experiential Education at Southern Illinois University Edwardsville School of Pharmacy (SIUE-SOP), where she is responsible for the Introductory Pharmacy Practice Experience (IPPE) program and teaching four required courses in Personal and Professional Development. Prior to entering her role in Experiential Education, Arnoldi provided patient care as part of an adult inpatient medicine service, which include pharmacy student and resident learners. Arnoldi earned her PharmD from Midwestern University Chicago College of Pharmacy, and completed a PGY1 Residency at Deaconess Health System in Evansville, Indiana.
Arnoldi actively contributes to the efforts of ASHP. She has published in and serves as a reviewer for AJHP. She is an active participant in the Section of Pharmacy Educators and Student Early Learning Experiences Section Advisory Group. She has also been involved in her state affiliate, the Illinois Council of Health System Pharmacists, serving in various leadership roles including President, Secretary, and Central Region Director.
When taking the Oath of a Pharmacist we all pledged to "utilize my knowledge, skills, experiences, and values to prepare the next generation of pharmacists." In developing the Section of Pharmacy Educators, ASHP created a space for preceptors and educators to collaborate, communicate, and enhance the preparation of the pharmacy workforce. The Section has become my new home within ASHP and has given voice to those involved in the training of students and residents. As preceptors and educators, we desire to give 100% to our learners despite the many responsibilities demanding our time and attention. Recognizing this, the Section and Section Advisory Groups are committed to developing and sharing diverse resources and educational programming that busy practitioners can utilize to optimize their learning experiences, practices, and ultimately, patient care.
Being a part of this new Section has been an exciting and important experience as I am passionate about helping to create meaningful learning experiences for student and resident learners while minimizing potential burdens to the preceptor. It is an honor to be nominated and considered for this position; I would be further honored to serve as Director-at-Large of the Section. If elected, I will continue to work within the Section to further develop and promote the Section's valuable resources, and to continue engaging our membership as they train the next generation of pharmacists.