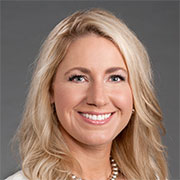 JENNIFER TRYON, PharmD, MS, FASHP ([email protected]), is the Chief Pharmacy Officer at Henry Ford Health in Detroit, Michigan, leading inpatient, outpatient, and health plan pharmacy teams for the integrated delivery network. Having practiced pharmacy in community hospitals, academic health systems, and integrated delivery networks, she has broad perspectives on unique challenges across health-system pharmacy. Committed to teaching, Jennifer has lectured in multiple schools of pharmacy and is an Associate Faculty for the ASHP Foundation's Pharmacy Leadership Academy. She has been the Residency Program Director for multiple HSPAL and postgraduate year-1 residency programs and has enjoyed training over 100 pharmacy residents. Jennifer received her MS from the University of Wisconsin and her PharmD from the University of Iowa College of Pharmacy. She completed a two-year health-system pharmacy administration residency at the University of Wisconsin Hospital and Clinics.
Jennifer has served ASHP as the Chair of the Section of Pharmacy Practice Leaders, the Council on Pharmacy Management, and section advisory groups and served in the House of Delegates. She is Past President of the Oregon Society of Health-System Pharmacists and has held other elected positions in multiple pharmacy associations.
She chairs the Autonomous Pharmacy Advisory Board and has a passion for innovative models to advance healthcare. She is frequently invited to present on leadership and business of pharmacy topics within the United States and internationally. Jennifer was honored with the 2021 Distinguished Service Award for the ASHP Section for Pharmacy Practice Leaders and was a named a 2020 Emerging Industry Leader by Managed Healthcare Executive.
Meet Jennifer E. Tryon
The headwinds we face in healthcare today demand revised and innovative approaches. As delivery models evolve from fee-for-service to value based, pharmacy professionals are well-positioned to address the medication needs of patients in a way that improves outcomes. Our unique skills can be leveraged to address diverse healthcare challenges such as physician shortages in primary health, achieving quality standards for value-based care, workforce shortages, escalating drug costs, health disparities, and inconsistencies in the pharmacy supply chain. As a profession, we should continue to build on advancements of telehealth adoption resulting from our COVID-19 response and leverage technology to best meet the needs of patients in traditional and emerging settings. This will enable more patient-facing interaction and top of license activities.
ASHP has long served as the collective voice for health-system pharmacy and can provide advocacy support for members' creative solutions to these fluctuations in pressure. The national scope and influence of ASHP are vital to ensure that pharmacy professionals are empowered through legislative policy and the sharing of best practices. It is an opportune time to address these challenges as a profession, and ASHP plays a vital role in our success.
Throughout my career, ASHP has been my professional home. It would be an honor and a privilege to serve on its Board.