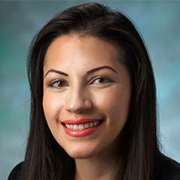 KATAYOON KATHY GHOMESHI, PharmD, MBA, BCPS, CPPS ([email protected]) is a Medication Safety Officer at UCSF Health and Assistant Clinical Professor with UCSF School of Pharmacy.
Dr. Ghomeshi earned a Bachelor of Science degree from the University of California, Davis in Neurobiology, Physiology, and Behavior. She completed her Doctor of Pharmacy degree at the University of Maryland, Baltimore. She earned her Master of Business Administration from the University of Baltimore/Towson University.
Dr. Ghomeshi completed a PGY1 Managed Care Pharmacy Residency at Kaiser Foundation Hospitals/Kaiser Permanente, followed by a PGY2 in Medication-Use Safety at the Johns Hopkins Hospital. She maintains board certification as a Board Certified Pharmacotherapy Specialist and Certified Professional in Patient Safety.
Dr. Ghomeshi is appointed to the Council on Pharmacy Practice Management. She was past Chair and Vice Chair of the Section of Inpatient Care Practitioners Advisory Group on Medication Safety and appointed member for the past six years. Dr. Ghomeshi was Program Chair for the Midyear Clinical Meeting Quality and Safety Pearls in 2020 and has presented pearls on numerous occasions. She has been an invited speaker on multiple occasions for the ASHP Summer Meeting. She has contributed to resources such as the Medication Safety Officer FTE Justification Toolkit, Autoverification Toolkit, and currently leads a workgroup developing a Standardize 4 Safety Implementation Toolkit. She has contributed to several peer reviews for ASHP publications. She was an appointed Panel Reviewer for the ASHP Best Practice Awards and ASHP Foundation Medication Safety Scholars.
As a pharmacy student, I attended a residency panel, where a discussion took place about leadership versus membership in professional societies. Being an active member, participating in events, and contributing to serving the community is as important and meaningful as serving in an official role.

I have been a practicing pharmacist for 10 years now, actively involved in the national and state level with various pharmacy and healthcare related professional organizations. In my experience, engaged members play a significant role in advancing the profession. It is the members who reflect the complex, complicated, stressful yet rewarding work that we all fulfill in our mosaic of pharmacy roles. I have taken great joy in volunteering my time, perspective, and passion with amazing colleagues, and am blown away by the great things that we have accomplished through collaboration. I have been fortunate to serve as Director on the Board for the California Society of Health-System Pharmacists, the largest state affiliate with over 3,000 members, and have learned a great deal. During my time as a member, volunteer, and an elected leader with different organizations, I have been validated that the dedication of individual members working together has driven our profession forward. It would be an honor for me to continue as an ASHP member, and serve as Director-at-Large for the Section of Inpatient Care Practitioners to guide efforts in advancing the interests and needs of our members as we provide pharmaceutical care and services.