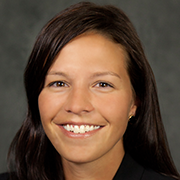 KATE M. SCHAAFSMA, PharmD, MS, MBA ([email protected]) is the Director of Pharmacy for Community Hospital Division with Froedtert & the Medical College of Wisconsin in Milwaukee. During her time with Froedtert, Schaafsma has led pharmacy practice advancement across the continuum of pharmacy practice settings. She received her Doctorate of Pharmacy and Masters in Business Administration degrees from Butler University and Masters in Pharmacy Administration from University of Wisconsin. She completed a combined PGY1/2 Health-System Pharmacy Administration Residency at the UW Health.
Schaafsma is very active within ASHP, including serving as a member and as a leader within the Section of Pharmacy Practice Managers, including both Section Advisory Groups and the Section Education Steering Committee. She served many years as faculty for the Manager's Boot Camp. Schaafsma has presented nationally on a variety of topics, including leadership development, workforce advancement, and pharmacy practice advancement.
As leaders in healthcare, we have tremendous opportunity to make a positive impact on our patient's health and well-being. To deliver a positive impact, we must retain focus to contribute with high integrity and reliability. Our current healthcare environment is fraught with barriers, including complex therapies, increasing costs, and depleting resources. I view these challenges as opportunities to continuously promote the contributions pharmacy can make to benefit our patient's outcomes. Patients deserve access to medications as well as access to pharmacists to provide guidance to ensure optimal, safe, and effective medication use.
As your advocate, I will strive to cultivate a strong, diverse workforce, engage our members to evolve practice, and deploy innovative solutions. I will continue to support our profession's need for change to sustain our ability to leverage our clinical skills, technical knowledge, and leadership abilities to advance the care we provide patients.
ASHP consistently demonstrates the power of partnership. My service to ASHP has provided me with a strong foundation in addition to incredible insight and lessons learned from those I have had the opportunity to work with and learn from. Together, ASHP members are well-positioned to create advanced solutions to overcome barriers and prepare our workforce for the challenges ahead. I am honored to be nominated for ASHP Section of Pharmacy Practice Leaders Director-at-Large. I look forward to the opportunity to serve you!