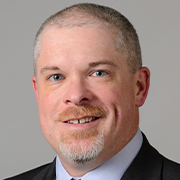 KEVIN W. CHAMBERLIN, PharmD, FASCP ([email protected]) is the University Director of Pharmacy Residency Programs at University of Connecticut (UConn) Health, Clinical Adjunct Associate Professor at the UConn Schools of Pharmacy and Medicine, and core faculty and pharmacist for the Connecticut Comprehensive Pain Center. Chamberlin graduated from the UConn School of Pharmacy before completing a specialized residency in geriatric pharmacy practice at the VA Connecticut Healthcare System.
Chamberlin's leadership in ASHP includes serving as Chair for the Section of Pharmacy Educators' Executive Committee Special Advisory Group (SAG) Development of Post-Graduate Education Learning Experiences. He previously served on the Inpatient Care Practitioners SAG on Pharmacy Practice Experiences Precepting, the Clinical Specialists and Scientists SAG on Preceptor Skills Development, and the Section of Ambulatory Care Practitioners Educational Steering Committee. He has contributed to the ASHP Preceptor Toolkit, an ASHP podcast, and assisted with other program development. Locally, he has served on the state chapter's residency conference planning committee and initiated the development of the CT Residency Program Directors' roundtable. An accomplished teacher who has spent nearly two decades as faculty for the UConn School of Pharmacy, he was twice named the Faculty Preceptor of the Year, and earned the David S. Frederick, MD Award for Excellence in Teaching from the UConn Health Internal Medicine Residency Program. Chamberlin is the 2019 Louis P. Jeffery Award recipient for excellence in precepting and service to the pharmacy profession and is a member of the American Association of Colleges of Pharmacy Academic Leaders Fellowship Program (ALFP) Cohort 16.
My goal as a member of the Section Executive Committee is to contribute as a listener to our constituents, carrying their thoughts forward to action through guidance and advice to ASHP to address the practice needs of our members. As someone with experience in many realms of pharmacy (clinical, administrative, and education), I bring a multifaceted viewpoint and skillset to this role. I have "walked the walk" in the clinical staffing, retail, and long-term care pharmacist roles. I have taught and precepted alongside my fellow faculty; I have assisted my faculty as Assistant Department Chair; and I have created a teaching development and evaluation process. I served the faculty, the students, and the School as Associate Dean of Admissions and Student Affairs thus I can relate to those being educated and those doing the educating. I have written grants, failing to obtain some while being successful with others. Such potential barriers were moments to pause and pivot to springboards for success; often the most fulfilling adventures of a journey are the detours you didn't intend.
Combining these experiences with my teaching philosophy of 'buffered autonomy' and my invaluable growth through the ALFP experience, I am ready to serve the profession and help achieve the goals and vision set forth for our Section. As a member of the Executive Committee, I will aim to provide shape to the voice and trajectory of our profession's future through influencing the education of our students, post-graduates, and current practicing pharmacists that help train them.