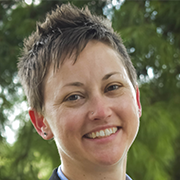 LINDSEY R. KELLEY, PharmD, MS, FASHP ([email protected]) is Associate Chief of Pharmacy at University of Michigan Health, where she is responsible for community & specialty services, outpatient infusion pharmacies, research pharmacy, an allergy extract lab, and oncology service line. She serves as Director of Pharmacy Programs in the Physician Organization of Michigan Accountable Care Organization, Program Director for the PGY1 community pharmacy residency, and Adjunct Clinical Assistant Professor at the University of Michigan College of Pharmacy. Kelley earned her PharmD from The University of Arizona in Tucson. She completed a pharmacy practice residency at Abbott Northwestern Hospital in Minneapolis and received her MS from the University of Minnesota College of Pharmacy while completing a two-year health-system pharmacy administration residency at University of Minnesota Health.
Kelley has been active with ASHP at state and national levels. She is most recently serving as Director-at-Large for the Section of Pharmacy Practice Leaders. Previously, she served as faculty for the Manager's Boot Camp; member of the ASHP Council on Pharmacy Practice; member of the Section of Pharmacy Practice Managers Advisory Groups on Innovation Management and Leadership Development; and Chair, New Practitioners Forum Executive Committee. She was honored with the ASHP New Practitioners Forum Distinguished Service Award in 2010 and recognized as a Fellow in 2019.
As the national conversation on quality and transparency in healthcare continues, there is an opportunity to be key contributors and impact what matters most to our patients, our organizations, and our profession. Specifically, we can address price and supply chain transparency related to white-bagging and vertical integration; social determinants of health through access to medications; think and act proactively on compliance to ensure long-term quality; and create models of care where each practitioner in pharmacy is working at the pinnacle of their skills, abilities, and license.

ASHP has been at the forefront in areas like technician development, regulatory advocacy, drug shortages, and provider status — that focus must continue. In our pursuit of quality, our profession will continue to face unanticipated challenges that require our best thinking to solve. Growing evidence suggests teams containing different perspectives and experiences produce better outcomes. This evidence compels us as a profession and ASHP as an organization to ensure we are encouraging diverse perspectives in our work. Further, that our profession and corresponding organizations, like ASHP, collaborate, ideate, and support pathways for all contributors: pharmacists, analysts, and distinctly important given recent workforce pressures, technicians.

I am proud of my service to ASHP and grateful for the strong foundation and work already underway. I am honored by this nomination and excited about the opportunity to join my colleagues in leading this work.