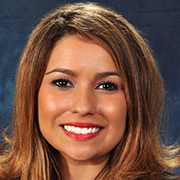 MELISSA ORTEGA, PHARMD, MS, FASHP ([email protected]) has focused her career on championing pharmacy practice advancement initiatives locally and nationally across the care continuum. She moved the needle in pharmacy practice by continuously devoting efforts to expanding clinical and outpatient programs to enhance transitions of care, chronic disease, and specialty therapy management and increase access to pharmacy care. As a proud member of the pharmacy team, Ortega leads Tufts Medicines community/retail pharmacies, specialty pharmacy services, in-clinic pharmacist services, prior authorization and benefits investigation services, transitions of care, population health initiatives, virtual care models, and payer contracting. Previously at Tuft Medical Center, She contributed to several key initiatives within acute care operations, including implementing new technology throughout various phases within the medication use process, advancing technician practice, and expanding decentral clinical pharmacy services.
Ortega received her doctorate of pharmacy degree from Nova Southeastern University in Fort Lauderdale, Florida, and completed her pharmacy practice and health-system pharmacy administration residencies at the University of Wisconsin Hospital and Clinics. Locally, Melissa served as President of the Massachusetts Society of Health-System Pharmacists in 2018 and Legislative Committee Chair in 2020. Nationally, Melissa has made a sustained contribution to the ASHP Sections and received the honor of participating in the ASHP Task Force on Racial Diversity, Equity, and Inclusion. Most recently, Melissa served as the inaugural Chair of the new ASHP Section of Community Pharmacy Practitioners.
Community pharmacies are the most accessible sites of care. And health systems community pharmacies are uniquely positioned to help avoid inappropriate medication regimens, reduce adverse effects/hospitalizations, and improve medication outcomes. The pandemic showcased how community pharmacy practitioners led pharmacy care in our communities by ensuring access to care. Further, a notable trend is patients seeking more convenient, high quality, and timely access to care. The public trust and expects community pharmacists to utilize their medication expertise to adapt and evolve to meet their unique needs. Excitingly, innovation and advancement are driving new community models of care.
This past year, I had the honor and pleasure to lead efforts as your inaugural Chair in formulating a framework that will allow community practitioners to network, exchange ideas, and engage with one another. Our community pharmacy members inspired and energized us to discover where the full potential lies, showcase the value of community-based practices and note the interconnection between health system pharmacy practice and the community. There lies a lot of optimism for community pharmacy practice despite the challenges with reimbursement models, gaps in care in rural areas, and the workforce. I believe the next step in our journey is critical as a section – to prioritize what we need to put into action and connect members that will further foster innovation, resiliency, and advancement in community pharmacy practice. It would be an honor to serve as your Chair.