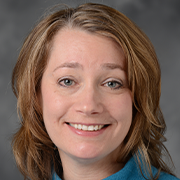 NANCY C. MACDONALD, PharmD, BSPharm, BCPS, FASHP ([email protected]) is the Coordinator of Transitions of Care and Emergency Preparedness at Henry Ford Hospital in Detroit, Michigan, and Adjunct Faculty at Wayne State University (WSU) Eugene Applebaum College of Pharmacy. She is responsible for designing and implementing initiatives for patients to safely transition from all areas of care within the health system and ensuring the pharmacy department can sustain services in emergencies. MacDonald received her Bachelor of Science in Pharmacy from Wayne State University and her PharmD from Shenandoah University. She completed the ASHP Foundation Pharmacy Leadership Academy.
MacDonald has been active with ASHP and currently serves as the Vice Chair of the ASHP Section Advisory Group (SAG) on Clinical Leadership. She is a previous member of the SAG for Preceptor Development. She was an ASHP Practice Advancement Initiative 2030 advisory panel member and ASHP Statement on the Role of the Pharmacist in Emergency Preparedness 2022 Update workgroup member. She also serves as a reviewer for ASHP Midyear educational session proposals and the CV review program. She has been active with local and state affiliate chapters, serving as a Board member for the Southeastern Michigan Society of Health System Pharmacists, President of the Michigan Society of Health System Pharmacists (MSHP) and a MSHP alternate delegate for the ASHP House of Delegates. She was recognized as a Fellow of ASHP in 2017.
I am excited for the opportunity to serve the Section's members and ASHP in improving care for all patients, developing clinical leaders, and advancing pharmacy practice.
Although the last couple of years have been challenging, it is important for pharmacy leaders to stay focused on efforts to improve care in all communities, advance professional practice, and reduce healthcare costs. ASHP is positioned with members eager to highlight clinical advances and practice models which have sustained and more importantly advanced care despite recent challenges. I will encourage Section members to share how they integrate scientific advances into practice and when appropriate, encourage the SAGs to collaborate on education initiatives. I will continue my efforts to include new practitioners in activities to provide leadership development and networking opportunities.
I have held various leadership positions at the regional, state, and national levels which helped prepare me for this position. I will help ASHP and the Section identify and prioritize topics and activities which meet their strategic initiatives, integrate scientific advances into pharmacy's daily practice and develop clinical leaders.
I am honored to have been nominated for Chair of the Section. I look forward to helping the Section highlight pharmacy's impact on improved patient outcomes and reducing healthcare disparities.