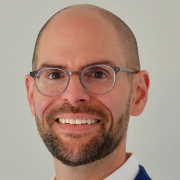 NATHAN A. PINNER, PharmD, BCPS ([email protected]) is an Associate Clinical Professor with the Auburn University Harrison College of Pharmacy and a Clinical Specialist in inpatient internal medicine at Princeton Baptist Medical Center, Birmingham, AL. He earned his PharmD from the University of Tennessee and completed his PGY1 residency at Methodist University Hospital (MUH) and his PGY2 Internal Medicine residency with the University of Tennessee at MUH in Memphis, TN.
Pinner currently serves ASHP as a member on the Clinical Specialists and Scientists Meeting Planning Committee. He has previously served as a member on the Council on Therapeutics and as Network Facilitator for Pharmacotherapy, Section of Clinical Specialists and Scientists. Additionally, he has been an active member of the Alabama Society of Health-System Pharmacists serving on the Board of Directors for two terms and the editorial board of their professional journal.
ASHP and the Section have continued to make great strides in the advancement of pharmacy practice. I am grateful for the opportunity to serve ASHP and the Section through work on councils and committees. These efforts allow me to collaborate with pharmacists from varied backgrounds and locations who are dedicated to advancement of the profession. I consider these opportunities some of the most professionally rewarding experiences of my career.
Through my role as an educator, practitioner, and clinical researcher I am well suited to serve the Section's mission of advocating for practice advancement and improving patient care through creation and translation of scientific advances into practice. It is more important than ever to cultivate a strong, diverse network of practitioners that share this mission and are willing to participate in growing the profession. The Section offers excellent resources to their members, and I look forward to the opportunity to expand these resources and identify creative strategies for engaging members.
I consider it a great honor to be nominated for Director-at-Large of the Section. I look forward to the opportunity to continue to serve ASHP, the section, and our members.