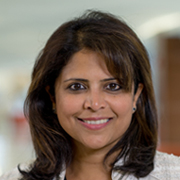 NISHAMINY (NISH) KASBEKAR, PharmD, BSPharm, FASHP ([email protected]) is the Chief Pharmacy Officer at Penn Presbyterian Medical Center in Philadelphia, Pennsylvania. Kasbekar earned her Bachelor of Science in Pharmacy and Doctor of Pharmacy degrees from the Philadelphia College of Pharmacy and Science and completed residencies in pharmacy practice and infectious diseases at the Hospital of the University of Pennsylvania. She began her career providing direct patient care as a clinical pharmacy specialist in infectious diseases, implementing an antimicrobial stewardship program. In her 25 years at Penn Medicine, she has led many strategic and programmatic initiatives expanding the scope, services, and influence of the pharmacy department in inpatient and ambulatory areas.
Her ASHP service includes Board of Directors (2019-2022); Chair, Section Advisory Group on Multi-Hospital Pharmacy Executives; Chair, Council on Pharmacy Practice; Women in Pharmacy Leadership Steering Committee; AJHP Editorial Board; and delegate to the ASHP House of Delegates for over eight years. In addition, she has served as Chair, Vizient Practice Advancement Committee; President, Pennsylvania Society of Health-System Pharmacists; President, Pennsylvania Pharmacists Association Educational Foundation; and President, Delaware Valley Society of Health-System Pharmacists. Kasbekar has also received numerous recognitions for her work and contribution to pharmacy, including the PSHP Pharmacist of the Year Award, Joe E. Smith Award, Sister M. Gonzales Duffy Award, and as a Fellow of ASHP. Kasbekar has also published and presented on a variety of topics, including leadership development, process improvement in healthcare, well-being and resilience, and innovative practice models.
Meet Nishaminy (Nish) Kasbekar
The pandemic has accelerated the pace of change in healthcare and fueled a paradigm shift in pharmacy, providing leaders a unique opportunity to work in dynamic and novel ways. The role of the pharmacist has also evolved from an under-utilized ancillary resource to a front-line healthcare worker integral during a challenging healthcare crisis. In addition, the increasing complexity of medications, rising drug costs, challenging regulations, focus on outcomes, and workforce shortages have put pharmacists at the center of navigating initiatives that provide safe and quality care.
As we look to the future, healthcare delivery will be significantly re-engineered, and the below focus areas will be important for ASHP:
Enable members to create innovative strategic models for practice advancement.
Harvest an entrepreneurial spirit to leverage collaboration with disruptive innovators and vertical integrators to promote productive partnerships.
Embrace digital technology to create new delivery models utilizing pharmacists outside of conventional norms.
Invest in initiatives to create safe, high-quality, and equitable patient care by supporting programs focused on well-being, resilience, and elimination of healthcare disparities.
Inspire and lead the professional development of the younger workforce for effective succession planning.
As ASHP members, our unity of thought and continued pursuit of professional excellence will allow us to move forward strategically, creatively, and in a transformative way.
I am deeply honored by this nomination and would consider it a privilege to serve the members as ASHP President.