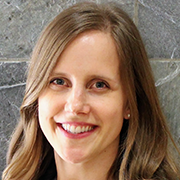 RACHEL J. ROOT, PharmD, MS, BCPS, FMSHP ([email protected]) is a Pharmacy Coordinator and the PGY1 Residency Program Director at Abbott Northwestern Hospital, part of Allina Health, in Minneapolis. She is responsible for leading process improvement initiatives, facilitating project management, and coordinating teaching programs for residents and students. Root received her PharmD and MS degrees from the University of Minnesota. She completed a PGY1/PGY2 health-system pharmacy administration and leadership residency at M Health Fairview University of Minnesota Medical Center. In the previous decade, Root worked as a manager at Abbott Northwestern Hospital and Oregon Health & Science University in Portland, Oregon overseeing a variety of services, including neurology, orthopedics, rehabilitation, spine, and ambulatory internal medicine clinical pharmacy practice, sterile medication preparation, perioperative services, informatics, and medication distribution operations.
Root has served in a variety of roles within ASHP, the Minnesota Society of Health-System Pharmacists (MSHP), and the Oregon Society of Health-System Pharmacists. These roles include president of MSHP, alternate delegate for the ASHP House of Delegates, and co-chair of the Minnesota Pharmacy Alliance, an MSHP partner organization focused on advocacy efforts to create and facilitate opportunities for pharmacists and pharmacy technicians to practice to the extent of their capabilities and improve the health of Minnesotans. Currently, Root serves as Chair of the Section of Pharmacy Practice Leaders Advisory Group on Frontline Leaders.
In a profession that is familiar with finding itself at a crossroads, I believe pharmacists and pharmacy technicians are skilled at persevering and navigating through challenging times and finding a path forward. The Section of Pharmacy Practice Leaders, in particular, excels at cultivating creativity and sharing ideas on a broader scale. More recently, the Section of Pharmacy Practice Leaders has explored different ways to communicate these ideas with members (e.g., podcasts, utilizing video conferencing within section advisory groups, and virtual roundtables, to name a few). I believe the content we provide is just as important as how and when we provide it. Along with continuing the strong tradition of providing valuable content and connection, if elected, I would endeavor to assess our communication needs and structures and promote evolution, as needed, to ensure we continue to meet the needs of our members. With many challenges behind and ahead of us, I hope to have the honor to continue to serve and support our profession as a part of the Section of Pharmacy Practice Leaders Executive Committee.