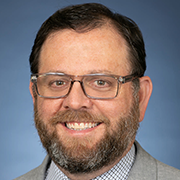 RYAN C. CELLO, PharmD ([email protected]) is a Pharmacy Supervisor at UC Davis Health specializing in pharmacy automation, diversion prevention, informatics & analytics. Cello received his PharmD from UCSF and completed a PGY1 acute care residency at UC Davis Health where he has worked in a variety of practice settings including Pain Management, Emergency Medicine, ICU and Perioperative Services. For the past 9 years, he has provided leadership and oversight for health-system pharmacy initiatives in automation, diversion and informatics. Projects Cello has facilitated include ADM upgrades; IV workflow software implementation; inventory management software implementation; diversion software implementation and IT facility strategic planning to support future pharmacy enterprise expansion projects. Cello is an Assistant Clinical Professor at UC San Francisco and precepts students and residents on automation and informatics rotations.
Cello is currently the Chair of the ASHP Section Pharmacy Informatics and Technology (SOPIT) Advisory Group on Operations and Automation and served as Vice-Chair the previous term. He has presented at ASHP's Midyear Clinical Meeting and was one of the authors of the recently published ASHP Guidelines on the Safe Use of Automated Dispensing Cabinets. Cello also recently served as an advisory committee member for ASHP Foundation's report on Advancing Medication Safety Through Technology Innovations: Focus on RFID Technology.
My mantra as an informatics pharmacist has always been "if it lives in the pharmacy and has a power plug, I want to use it to make the medication use process safer." My goal is to incorporate pharmacy automation, informatics, and analytics into all components of the medication use process to improve safety for patients and increase satisfaction and efficiency for staff. I am excited about the potential to harness big data coming from the pharmacy enterprise to improve outcomes for our patients and drive performance of the pharmacy enterprise to meet strategic goals.
I am honored to be nominated for the Director-At Large. The practice of pharmacy grows exponentially more complex as informatics systems become more integrated. This has created a growing demand for well-trained pharmacy informaticists to ensure we are optimizing systems to improve safety. Through my experience in the ASHP SOPIT, I have had the opportunity to work with many knowledgeable informatics pharmacists that have helped me create a network of peers I can reach out to as subject matter experts. If elected, I plan to work to advocate for our members and build on the needed resources provided by ASHP to help health systems navigate the changing and challenging field of health informatics and meet the growing need for well-trained informatics pharmacists.