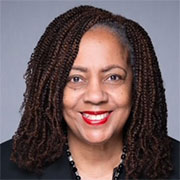 VICKIE POWELL, PharmD, MS, BSPharm, FASHP ([email protected]) is the Site Director of Pharmacy Operations at New York-Presbyterian Hospital. The hospital is affiliated with two of the nation's leading medical colleges: Columbia University College of Physicians and Surgeons and Weill Cornell Medical College. The hospital and its academic affiliates share a commitment to pursuing clinical excellence, engaging in groundbreaking biomedical research, outstanding medical education, and providing prevention and wellness services to the community. Vickie is a clinical assistant professor of pharmacy at Long Island University and a guest lecturer at the Touro College of Pharmacy.
Vickie received a Bachelor of Science degree in Pharmacy from Xavier University of Louisiana; a Master of Science degree in Pharmacy Administration from Long Island University, New York, and a PharmD degree from Howard University, Washington DC. She is a fellow of ASHP, a BPS Employee Advisory Council member, and is currently working with ACCP on the upcoming Bridging Pharmacy Education and Practice Summit.
Vickie is the Past President of the New York City Society and New York State Council of Health-System Pharmacists (NYSCHP). She remains active in both organizations and recently served as Chair of NYSCHP's inaugural DEI committee. Vickie's sustained ASHP service includes: delegate to the House of Delegates, member of the Council on Education and Workforce Development, ASHP Policy-Process CQI Special Committee, Board of Canvassers, ASHP Committee on Nominations, Council on Pharmacy Practice, ASHP Task Force on Racial Diversity, Equity, and Inclusion, and the Certified Pharmacy Executive Leaders Advisory Committee, and Chair of the ASHP Advocacy and PAC Advisory Committee.
Meet Vickie L. Powell
"Change will not come if we wait for some other person or if we wait for some other time. We are the ones we've been waiting for. We are the change that we seek." Barack Obama.
The role of the pharmacist will change considerably over the coming years. We must continue collaborative advocacy efforts to achieve pharmacist provider status in all states and expand legislators' awareness of the pharmacist's role on the healthcare team. We must work with other organizations to standardize a professional identity for pharmacists beyond dispensing and highlight our many contributions to medication safety. We must continue education on healthcare disparities, cultural diversity, equity, and inclusion.
I am passionate about the importance of mentoring, and I am a living testimony to the 'power of mentoring. ''Alone we can do so little, together we can do so much.'' (Helen Keller). The achievements of any organization stem from the cumulative efforts of our teamwork. To sustain growth and continuity, we must actively recruit, mentor, and groom members to take on leadership roles. Being a good pharmacist is not just a matter of mastering the scientific principles but also having the will and spirit to serve others.
I challenge you to adopt the motto, ''Each One Teach One.'' If we each commit to mentor one other person, our organization will continue to thrive. I am honored to be slated on the ballot and would be grateful for the opportunity to serve.