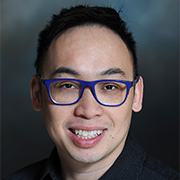 VINH X. DAO, PharmD, BCPS ([email protected]) is an Ambulatory Care Specialist in pain management, headache, palliative care, and opioid stewardship within the Minneapolis VA Healthcare System. He graduated with distinction from the UMN College of Pharmacy and currently serves as the TelePain Program Manager for the VA Midwest Healthcare Network. Dao maintains affiliations as a guest instructor with the University of Maryland-Eastern Shore and the UMN Pain Physician Fellowship Program. He holds an administrative title as Chief Pharmacy Executive Consultant for a private community based ambulatory clinic that focuses on providing services to underserved patient populations. In his roles, Dao has led the development of numerous clinical and therapeutic protocols as well as projects to improve quality of care, streamline processes, and ensure regulatory compliance.
His service to ASHP includes member with the SAG for Pain Management and Palliative Care. He developed an ASHP accredited PGY2 Pain Management and Palliative Care Residency Program and serves as its Residency Program Director. He has been invited to train as an ASHP Residency Program site surveyor. He has collaborated with other SAG members to produce ASHP podcasts on several topics related to pain management and participated in ASHP roundtable discussions. He has contributed to medical literature through both publication and peer review. Dao has served on a Role Delineation Study Panel with the Board of Pharmacy Specialties and is a frequent presenter for various local and national venues.
I am truly amazed at the rate of transformation within healthcare and our profession. In my 15+ years of practice experience, I have witnessed seismic shifts in models of healthcare delivery and the roles and responsibilities of the clinical pharmacist practitioner in ambulatory care. As a lifelong learner, I am humbled by the wealth of knowledge that exists within our colleagues and pharmacy practice community. I have made an ongoing commitment to advocate for our profession so that our interdisciplinary colleagues, stakeholders, and the public share this perspective and recognize the value and contributions pharmacists provide. My personal philosophy of servant leadership is mirrored after the mentors and leaders who have inspired me. A title does not make a great leader and a great leader does not need a title. It is truly an honor to be nominated for consideration. Whether elected or not, I will continue my efforts to advocate for innovative models of healthcare delivery which includes the expansion of telehealth, not only as a supplemental option for healthcare, but as a sustainable model that increases access to healthcare for all patients. It is crucial that clinical pharmacists are incorporated into these delivery models and we must continue our efforts to remove compensation and regulatory barriers. I value the diversity of knowledge, experience, and culture that exists in our profession. I believe that diversity and equality within the healthcare team directly increases our ability to address disparities, bias, and stigma that may exist in direct patient care.