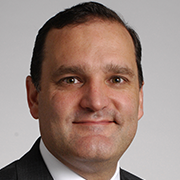 WILLIAM P. KERNAN, PharmD, MBA, FASHP ([email protected]) is the Executive Director of Pharmacy for the Florida region of Cleveland Clinic overseeing pharmacy services for multiple acute care hospitals, outpatient pharmacies, and oncology infusion pharmacies. Kernan received his Doctor of Pharmacy degree from Purdue University and completed a PGY1 residency at UF Health in Jacksonville, Florida. He completed his Masters in Business Administrations from Walden University and is a Fellow of ASHP.
His service to ASHP includes being a member of ASHP Section Advisory Group on Innovation Management, Leadership Development, and Business Development / System Integration. He served as the Vice-Chair of the Section Advisory Group on Leadership Development and Chair of the Section Advisory Group on Frontline Leaders. He currently sits on the ASHP Council of Public Policy and has been a delegate for Florida to the ASHP House of Delegates. In Florida, he has served on the FSHP Board of Directors and was President of FSHP in 2019-2020. He is the founder of the FSHP Political Action Committee – Pharmacists for Improved Healthcare Outcomes. He served for several years on the Florida Residency Conference steering committee and chaired the committee in 2017.
Our service to our patients, organizations, and society has never been more impactful and we should be proud of all we have achieved. Practice advancement, management of the pharmacy enterprise, and the development of our workforce continue to be top priorities for this section. It is critical that we strive for all pharmacists to practice at the top of their license and ensure payers recognize us effectively so we can grow proven care practices that maximize our patient outcomes. Effectively utilizing technology advancements while promoting and developing our pharmacy technician workforce are key to our practice growth as well. While the COVID-19 pandemic has underscored the resiliency and impact of our profession, we are all concerned with the stress and wellness of our fellow pharmacy team members. This includes recognizing the importance of a diverse workplace and taking sustained action to drive equity and inclusion of all.
ASHP has long been the driver of change and innovation while guiding us through the tough issues facing our profession. It takes many volunteers and dedicated individuals to make this happen and the Section of Pharmacy Practice Leaders plays an integral role in such efforts. I am honored and grateful to be considered for this opportunity and look forward to being a part of our ongoing success.