Ask Your Senator to Co-Sponsor Drug Shortages Legislation
Contact Your Member of Congress Today
Ask your member of Congress to support the Mitigating Emergency Drug Shortages (MEDS) Act, legislation that includes ASHP's key policy recommendations to reduce the frequency and severity of drug shortages and ensure that patients have reliable access to their medications.
What's Happening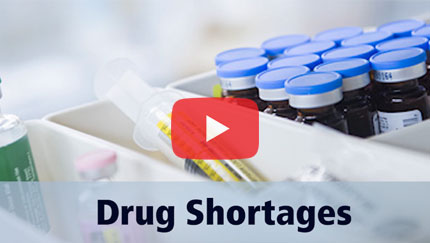 The MEDS Act, legislation introduced by Sens. Susan Collins (R-ME) and Tina Smith (D-MN), provides enhanced manufacturing reporting requirements and new market-based incentives that will help mitigate the risks drug shortages pose to both our patients and the healthcare system.
The bill contains several
key provisions
developed by ASHP, along with the American Hospital Association, the American Society of Anesthesiologists, the American Society of Clinical Oncology, and the Institute for Safe Medication Practices.
Link the whole card
Here's What You Can Do
We need your help to ensure that every member of Congress understands how pharmacists can address the nation's opioid epidemic.
1. Send an email to your members of Congress. Use the provided email to describe the ways shortages impact patient care at your practice site. Emphasize disruptions to protocols that could contribute to patient harm or disruptions in care.

2. Ask colleagues at your practice site to join you. Every voice counts!
Link the whole card