Chair (2022-2025)
Ashley Boedecker, PharmD, MBA
Ashley A. Boedecker is the Director of Ambulatory Care Pharmacy Services at Advocate Aurora Health (AAH) in Milwaukee, Wisconsin. In this role she oversees operations and pharmacy service development for several Greater Milwaukee Area community pharmacies and ambulatory clinics. She also serves as a liaison between the clinics and pharmacies, designing growth and business development initiatives throughout the system. As part of the AAH pharmacy leadership team, Boedecker is overseeing the expansion of the system's community pharmacy footprint. Boedecker received her Doctor of Pharmacy and Master of Business Administration from Drake University in Des Moines, Iowa. She completed her PGY1 and PGY2 health-system pharmacy administration residency at Aurora Health Care and has gained experience in inpatient, community, and ambulatory health-system pharmacy practice. Boedecker's leadership in ASHP started when she was selected as the resident member for the ASHP Commission on Credentialing during her PGY-2 Residency. She continued to be an active member participating in the New Practitioner Forum Membership and Outreach Committee. She currently serves as Chair of the ASHP Section of Community Pharmacy Practitioners.
Ashley Boedecker can be emailed at [email protected].
Immediate Past Chair (2022-2024)
Melissa Ortega, PharmD, MS, FASHP
Melissa Ortega is the System Executive Director, Ambulatory Pharmacy Services at Tufts Medical Center in Boston, Massachusetts. Melissa has focused her career on championing pharmacy practice advancement initiatives locally and nationally across the care continuum. Melissa moved the needle in pharmacy practice by continuously devoting efforts to expanding clinical and outpatient programs to enhance transitions of care, chronic disease, and specialty therapy management and increase access to pharmacy care. As a proud member of the pharmacy team, Melissa leads Tufts Medicines community/retail pharmacies, specialty pharmacy services, in-clinic pharmacist services, prior authorization and benefits investigation services, transitions of care, population health initiatives, virtual care models, and payer contracting. Previously at Tuft Medical Center, Melissa contributed to several key initiatives within acute care operations, including implementing new technology throughout various phases within the medication use process, advancing technician practice, and expanding decentral clinical pharmacy services. Melissa received her doctorate of pharmacy degree from Nova Southeastern University in Fort Lauderdale, Fl., and completed her pharmacy practice and health-system pharmacy administration residencies at the University of Wisconsin Hospital and Clinics. Locally, Melissa served as President of the Massachusetts Society of Health-System Pharmacists in 2018 and Legislative Committee Chair in 2020. Nationally, Melissa has made a sustained contribution to the ASHP Sections and received the honor of participating in the Racial Diversity, Equity, and Inclusion Taskforce. Most recently, Melissa served as the inaugural Chair of the new ASHP Section of Community Pharmacy Practitioners.
Melissa Ortega can be emailed at [email protected].
Chair Elect (2023-2026)
Courtney B. Isom, PharmD, BCACP, CPP
Courtney Isom is the Pharmacy Administrative Coordinator at the Cone Health Community Pharmacy at Wendover Medical Center in Greensboro, NC. In this role, she is involved with creating medication access and expanding clinical services for the uninsured and underinsured population in her community. Courtney also oversees the day-to-day operations of the pharmacy.
Courtney serves in several teaching and precepting roles. She serves as the PGY1 Community-based Residency Director. Courtney is also on the Advisory Board for High Point University Fred Wilson School of Pharmacy. She is involved with leadership and engagement within her organization and community.
Courtney received her Doctor of Pharm.D. from Campbell University College of Pharmacy and Health Sciences. She also completed a PGY1 Community Pharmacy Residency at the University of Georgia in conjunction with Kroger Pharmacy. She is board-certified in Ambulatory Care.
Courtney is an active member of ASHP and is currently serving as a Director-at-Large for the Section of Community Pharmacy Practitioners Executive Committee. She was also a presenter for Ambulatory Care Clinical Pearls at Summer Meeting 2022.
Courtney Isom can be emailed at [email protected].
Director-at-Large (2022-2024)
Amanda Place, PharmD, BCACP

Amanda Place, PharmD, BCACP ([email protected]), is an Ambulatory Care Clinical Pharmacy specialist at the Ascension St. Vincent Joshua Max Simon Primary Care Center in Indianapolis, IN. In addition, in 2006, she and her business partners opened an independent community pharmacy in East Central Indiana, where she practices part-time as a community pharmacist and provides services like medication therapy management and group home medication consulting, while also implementing programs like medication synchronization and diabetes care. Amanda received her Pharm.D. from Butler University. She provides pharmaceutical care, including medication therapy management, pharmacogenomics consults, and disease management to Primary Care Center patients and coordinates the pharmacy population health efforts for the Ascension physician groups in Indiana. She also serves as an educational resource for the medical residents, acts as a preceptor for pharmacy residents, and is the Ambulatory Care PGY-2 Pharmacy Residency Program Director and the founding Residency Program Director of the PGY-1 Community-based Pharmacy Residency Program at Ascension St Vincent Indianapolis. The medication safety program that she helped to initiate was recognized by the Institute for Safe Medications Practices with an award for excellence in 2017. Amanda is active with both ASHP and APhA, with a focus on Community-based pharmacy residency training. She serves as a practitioner surveyor for several Community-based PGY-1 residency programs annually.
Amanda Place can be emailed at [email protected].
Director-at-Large (2022-2025)
Jordan Rush, PharmD, MS
Jordan Rush is Director of Pharmacy for System Retail and Outpatient Pharmacy Services for UNC Health, overseeing outpatient pharmacies across the system, meds to beds programs, a medication history team, and a PGY1 Community Pharmacy Residency practice site in collaboration with the UNC Eshelman School of Pharmacy. She earned her Pharm.D. from MCPHS and received her M.S. from the University of Wisconsin. Jordan completed a combined PGY1/PGY2 Health System Pharmacy Administration Residency at the University of Wisconsin Hospital and Clinics. Jordan has been an active member of ASHP throughout her career, serving within the Section of Pharmacy Practice Leaders on the Leadership Development Section Advisory Group (SAG), serving as Co-Chair and then Chair of the Value, Quality, and Compliance SAG, and member of the Educational Steering Committee. She has led webinars to encourage resident participation within ASHP and highlight outpatient pharmacy's involvement in rolling out the COVID-19 vaccines across UNC Health, and received an ASHP Best Practice Award in 2020 for UNC Hospitals' partnership with the Community Pharmacy Enhanced Service Network (CPESN) to improve transitions of care for patients.
Jordan Rush can be emailed at [email protected].
Director-at-Large Elect (2023-2026)
Thomas G. Wadsworth, PharmD, BCPS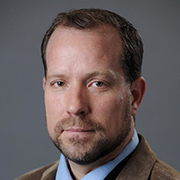 Dr. Wadsworth is a highly accomplished pharmacist with over 20 years of experience in community, clinical, and academic pharmacy practice and research. He is deeply committed to improving access and quality of all pharmacy services, including pharmacist provided healthcare services.
Dr. Wadsworth is an Associate Professor of Pharmacy Practice and Administration, and Executive Associate Dean at Idaho State University College of Pharmacy. He served as Assistant Clinical Professor and Primary Care Pharmacist at St. Luke's Internal Medicine in Boise, Idaho. With his extensive knowledge of health education and rural health issues, Dr. Wadsworth has been instrumental in developing innovative strategies to improve the delivery of pharmacy services to remote and underserved communities. He owned and operated three community pharmacies in Idaho for 10 years, where he was among the first to offer telepharmacy services to rural communities.
In addition to his academic and community pharmacy work, Dr. Wadsworth is the principle investigator of the SETMuPP demonstration initiative, which aims to mobilize community and primary care pharmacists to provide sustainable preventative and health management services to Alaskans with diabetes and/or cardiovascular disease. Dr. Wadsworth is board certified in pharmacotherapy and licensed in both Alaska and Idaho.
Dr. Wadsworth's wealth of experience in community pharmacy, clinical pharmacy, and advocacy work, combined with his passion for improving access to pharmacy services, make him a respected and influential figure in the field of pharmacy.
Thomas Wadsworth can be emailed at [email protected].
ASHP Staff
Gabrielle Pierce, PharmD, MBA

Gabrielle (Gabby) Pierce serves as a Director of Member Relations at ASHP, and is staff liaison to the Section of Specialty Pharmacy Practitioners. In this role, Dr. Pierce leads the development and implementation of programs and initiatives related to specialty pharmacy practice. Prior to this role, Dr. Pierce completed ASHP's Executive Fellowship in Association Leadership and Management in Bethesda, Maryland. She received her Bachelor's in Pharmaceutical Sciences, Master of Business Administration, and Doctor of Pharmacy degrees from the University of South Carolina in Columbia, South Carolina. Following graduation, Dr. Pierce completed a PGY1 pharmacy residency in specialty pharmacy at the University of Illinois - Chicago within their Specialty Pharmacy Services in Chicago, Illinois.
Gabrielle (Gabby) Pierece can be emailed at [email protected].