Frequently Asked Questions
Account Access to Virtual Conference Platform
How do I log-in to participate in the virtual conference?
Registered attendees will receive an email August 12 with the link to the virtual conference platform and the access key to log-in.
If you forgot your access key, click "Forgot your access key" and you will receive an email from Eventscribe with your access key.
The first time you log-in you will be asked to set up your profile in the virtual platform. Your information will be visible to other participants.
Now, you are logged in! You can start favoriting sessions and events to save them to your schedule.
I have registered for the conference but when logging in to the virtual conference platform, it says "Account was not found" or I used the "Forgot Access Key?" link but haven't received the email. Please contact us via email at [email protected]
Registration
I'm not registered for the conference. How can I register?
You may register for the virtual conference by clicking on the link below:
https://www.ashp.org/Community-Pharmacy/Conference/Register
Please note that there might be a delay in receiving your login information for the virtual conference platform.

Who can I contact the day of the conference if I need assistance with registration, logging into the platform, or have any other questions about the conference?
Please contact us via email at [email protected]

11 Tips for the Best Virtual Meeting Experience
Please test and check your system at least 15 minutes prior to event. This includes your internet connection, device battery life, and speakers.
Use Chrome or Firefox as your browser and access sessions from your computer. The conference platform does not support mobile devices. DO NOT use Internet Explorer or Safari.
Use a hard-wired internet connection if possible. If you have to use WIFI, make sure you are close to the WIFI device.
Disconnect from VPN.
If your office has a firewall, have your IT staff make sure that you can access streaming audio / video. If the firewall restricts this activity, try another network.
If you are at home, make sure you are also not using streaming services like Netflix, etc. that could impact your available bandwidth.
Close any other tabs that may be using a lot of bandwidth.
Clear your web browser history and cache.
Find a quiet comfortable space to sit back, relax and enjoy the conference! Remove distractions….Turn off notifications on your phone and computer and close unrelated tabs. Ensure others know you are attending an event that requires your full attention. Let work take a backseat and enjoy this unique opportunity to learn and reconnect with your colleagues!
Join the session chat! Be sure to ask your questions or make comments in the chat box during the LIVE Q&A. This is your opportunity to interact with the faculty!
Don't miss the poster chat! Connect live with your colleagues to discuss their poster presentations during the poster live chat on Wednesday, August 18, 12:15-12:55 p.m. From the itinerary planner, select virtual posters to browse by poster title or author. Click on a poster title, then hit the video chat button at the poster live chat time to join a chat

Education/Continuing Education
Where can I find details on educational sessions and other activities offered at the Community Pharmacy and Ambulatory Care Conference?
View the Schedule-at-a-Glance
Will materials be available for educational sessions?
Yes. Access to presentation slides and other supplemental resources will be accessible and free to all registered meeting attendees on the Session Schedule & Itinerary Planner when available.
Will recordings of the educational sessions be available following the meeting?
Yes. Most educational sessions (excluding virtual posters) will be recorded and available online for 60 days following the meeting, and are free to all registered attendees.
How long after the meeting can I process CE?
Attendees must claim CE credit for the sessions they attended within 60 days of completing the activity.

Virtual Posters
What is a virtual poster?
It's all online and digital. You will be able to log-in and view virtual posters from any internet-connected computer. During the conference, you will be able to view virtual posters and attend live chat with presenters during the poster session.
How can I chat with poster presenters?
Poster presenters will be available for live poster chat on August 18, 2021 from 12:00 p.m. until 12:55 p.m.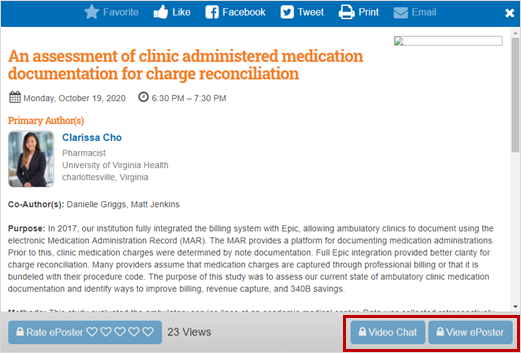 How can I send a poster presenter a question?
Once you select a poster, you can click "Contact Author" at the bottom of the poster page to send an email outside of the scheduled live chat time.
If the poster presenter didn't provide an email address then the "Contact Author" button won't be available.
Assistance During the Virtual Conference?
Please contact us via email at [email protected]
I have a technical issue during the virtual conference, what can I do?
If you are having trouble with the virtual conference platform (virtual site, live stream, or other aspect of the platform), contact Cadmium Technical Support from 9 a.m. – 9 p.m. EDT at (410) 638-9239 or via email at [email protected].