Beth Israel Deaconess Medical Center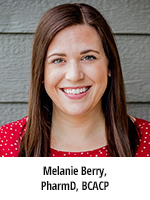 As the COVID-19 pandemic began to spread in the United States, healthcare workers were searching for readily available medications that may have activity against SARS-CoV-2. Reports from China and other countries with earlier COVID-19 experience hinted that certain HIV medications, mainly lopinavir/ritonavir and darunavir, may also have antiviral activity against COVID-19. Melanie Berry, PharmD, Monica Mahoney, PharmD, and Nicole Francisco CPhT, worked together to ensure none of their patients went without these medications.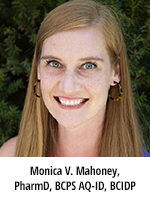 Berry and Mahoney are ambulatory pharmacists who care for patients living with HIV. As news outlets touted the purported benefits of lopinavir/ritonavir and darunavir, they feared that their patients reliant on these medications for HIV care would have difficulty obtaining them during routine refills. Together with their data analytics team, they compiled a list of all patients seen in their clinics with prescriptions for either medication. For patients on lopinavir/ritonavir, they reviewed viral resistance patterns and suggested more contemporary options to the clinicians. For patients on darunavir, they either suggested alternative HIV regimens, or coordinated with community pharmacies to proactively fill 90-day prescriptions early, to have supply at home. Additionally, specialty pharmacy liaison Nicole Francisco was instrumental in ensuring that the new regimens were covered by patients' insurance plans and was able to find co-payment assistance funding so that patients experienced minimal if no out-of-pocket costs.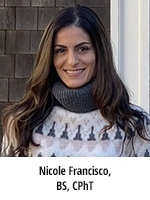 Berry and Mahoney spent a lot of time calling patients to counsel them on the medication changes or the rationale for filling early. Often times this was the first time patients were hearing about the use against COVID-19 and expressed gratitude about the steps the institution was taking to make sure all patients were taken care of. Many patients had questions surrounding COVID-19 and how to safely obtain their medications, to which Berry and Mahoney were able to guide them. Through their proactive outreach, the team was able to ensure that all patients were able to obtain adequate supply or be switched to an updated regimen, and no patient experienced a lapse in therapy.
Pharmacists all around the globe are working hard on the front lines during this pandemic to make sure our patients are safe and their medication therapy is optimized during this time. At my specific institution we are responsible for assessing COVID-19 patients who are positive and assess for proper therapy that is on board. We have pharmacists on our team responsible for coming up with drug protocols for the proposed drug therapies for our COVID-19 patients which include laboratory parameters, monitoring for adverse effects, contraindications/precautions, etc.
We are essential during this time and it is great to see our community of pharmacists come together during this rough time to bring about the best patient outcomes!
Monica V. Mahoney, PharmD, BCPS AQ-ID, BCIDP and Melanie Berry, PharmD, BCACP are clinical pharmacy specialists at Beth Israel Deaconess Medical Center. Nicole Francisco, BS, CPhT is a specialty pharmacy liaison at Beth Israel Deaconess Medical Center.
Posted April 1, 2021