Nominated by Brooklyn Nelson, Bill Gatton College of Pharmacy
East Tennessee State University Bill Gatton College of Pharmacy
"Innovation distinguishes between a leader and a follower." — Steve Jobs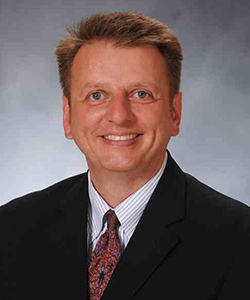 When it seemed as if the whole world was shutting down in the middle of March 2020, Brian Cross stepped up to make sure he was able to take care of his colleagues as well as his students on ambulatory care Advanced Pharmacy Practice Experience (APPE) rotations.
Realizing experiential education would need to look drastically different from anything colleges of pharmacy have experienced before, he joined together 13 preceptors from the East Tennessee region and created a unique virtual rotation for 10 APPE students completing ambulatory care rotations at East Tennessee State University (ETSU) Bill Gatton College of Pharmacy. He was able to creatively utilize each preceptor's individual strengths and areas of expertise while still offering direct patient care and service opportunities utilizing telehealth platforms.
Moving forward, this network of 13 preceptors (currently employed from multiple healthcare organizations) has been collaborating in other areas, such as creating and maintaining innovative clinical practice models, identifying needs and resources in the community, developing research opportunities, sharing teaching responsibilities, and engaging in service activities.
After the dust settles with COVID-19, ambulatory care pharmacists in the East Tennessee region will come out of this stronger than they were before, more innovative than they are today, and part of something bigger than any individual practitioner or organization. And that is, of course, thanks to Brian Cross.
Brian Cross, PharmD, CDE, BCACP, is Associate Professor and Vice Chair at the ETSU Bill Gatton College of Pharmacy
Posted April 1, 2021