Montefiore Nyack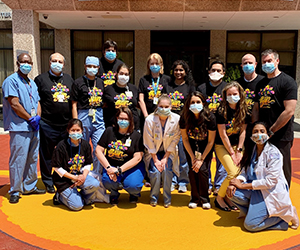 The Pharmacy Department always focuses on providing safe, timely, and effective treatments for our patients, and this was especially evident during the COVID-19 crisis as pharmacists and technicians worked on the front lines.
During this crisis, obtaining medications and supplying them were critical tasks in the midst of national medication shortages and the fast pace of newly created patient care areas. Technicians and pharmacists worked tirelessly to quickly rebuild Pyxis machines to fit the new needs and ensure seamless care for our patients, while clinical pharmacy services put many of the pharmacy staff at the forefront of patient care.
One of the biggest challenges was the uncertainty of how to treat patients and what medications would be available to use. With medication shortages, the pharmacists had to pay close attention to what was available and get patients switched over from one medication to the other. This was an instrumental collaboration between the doctors and the pharmacists so that these changes were safe for the patients.
Inadequate evidence to support treatment options for COVID-19 meant that medications such as hydroxychloroquine and azithromycin, which are established treatments for malaria and community pneumonia, were being used without knowing whether they could be safe and effective options for COVID-19. The pharmacists worked closely with the doctors to create treatment algorithms that outlined the safest ways to use these medications while monitoring the patients for serious side effects such as life-threatening arrhythmias.
Being at the forefront of care meant that the clinical pharmacists were reviewing the literature and networking with colleagues to identify ways to manage the complications of COVID-19. This included identification of overwhelming inflammatory responses and the presence of extensive clotting in the blood. Understanding the pathogenesis of the disease helped the clinical pharmacists extrapolate signs and symptoms to possible treatment options based on pharmacologic mechanisms of action. This allowed criteria for the off-label use of medications like tocilizumab and heparin to be created and safely implemented with the intensivists and hematologists.
Finally, with the staggering number of critically ill patients being seen, ensuring continuous care of pre-existing, but non-acute conditions became a challenge. Medication reconciliation not only served as a bridge for communication between patients and family members who were more familiar with their home medications, but it also helped the pharmacists assess the patients and proactively add or adjust chronic medications without interrupting the cadence among the other healthcare providers.
Daryl Schilling, PharmD, FASHP, BCPS-AQ ID, is the director of Pharmacy Services at Montefiore Nyack.
Posted April 1, 2021