Nominated by Therese Clark, pharmacy student program coordinator
Sharp Healthcare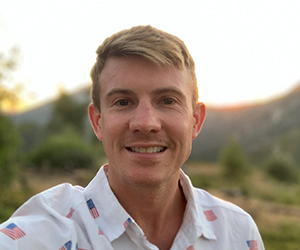 I am not a hero. I receive economic and emotional compensation for my work in the hospital. My superpowers do not include healing touch or the power of breath, my intravenous drugs and my artificial respirators do that for me. It was my job to take care of patients before a pandemic befell us. And it is a job that I truly love.
Who are the true heroes of the COVID-19 crisis? I would argue it is the people of this country who are staying home despite the economic, mental, emotional and spiritual toll of quarantine. Sheltering in place for non-essential workers has led unemployment to skyrocket above 6 million. It has and will lead to epidemic proportions of depression and anxiety. It deprives us of our humanity and ability to come together as a human family. That is why I think it is truly heroic to #stayhome.
Evan Mulvihill, PharmD, formerly a PGY2 resident at Sharp Healthcare, is an ED clinical pharmacist at Queen of the Valley Medical Center.
Posted April 1, 2021