Stony Brook University Hospital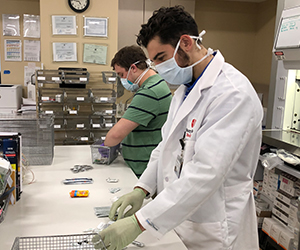 In late April, during the height of the New York outbreak, I was asked if I felt comfortable going to the ambulatory surgery building at Stony Brook University Hospital to restock and better equip the Pyxis med station and med room.
At face value this is not all that noteworthy, however it is important to understand that since the COVID-19 outbreak, the ambulatory surgery building was being used to house COVID-19 positive patients, many of whom were on ventilators. If this were a negative pressure environment like many of the units in the main hospital, it still would not be noteworthy, however this open floor plan building with minimal built-in isolation-related features made it feel almost like a guarantee that I was exposing myself to the virus.
I understood the risks of entering the ambulatory surgery building, and knew that the only thing keeping me safe was the PPE I had donned at the start of my shift. I thought about the risks involved, not only for myself, but for my loved ones. I thought about how I could best distance myself from those I care most about, especially those that I live with. I thought about how I would be potentially bringing the virus home to them, while they were doing their best to stay home and flatten the curve. I thought about how I was perhaps undoing their safety measures and exposing them anyway to a disease there is no cure for. I thought about how I would avoid seeing my parents and my niece to keep them from worrying about their own health. I thought about them worrying for me and my health, knowing the risks I was taking for a paycheck. I thought about which of my coworkers would be asked next if I said "no."
I went to the ambulatory surgery building, and I stocked the Pyxis med station and med room. I went, sweating, as a combination of the PPE and the anxiety I felt entering such a risky environment. I went, because those patients were already having perhaps the worst medical emergency of their lives, and because they needed my help. I went, so my coworkers with elderly parents and young children at home didn't have to. I know that as a pharmacy intern, while I'm still in the hospital environment, I'm not on the "front lines" as often as other essential hospital workers. I'm fortunate that suiting up in visors and N95 respirators and sterile shoe coverings isn't a part of my everyday work uniform, and I can only begin to imagine the anxiety they feel on a daily basis for their health as well as the health of their loved ones.
However, I am happy to contribute to the care team, and assist these patients on their worst days, because while I worry about getting home to my family safely, I know that's all they want as well.
Joseph D'Antonio is a licensed pharmacy intern and PTCB certified pharmacy technician at Stony Brook University Hospital.
Posted April 1, 2021