Beth Israel Deaconess Medical Center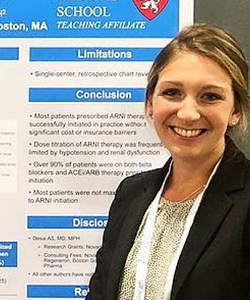 COVID-19 has forced practice shifts throughout many areas of our healthcare system, including ambulatory care clinics. These clinics had to quickly adapt to a condensed model of practice, with most patients receiving care through telehealth and virtual services. Every staff member in clinic was affected by these changes, including myself, the ambulatory care pharmacist working in the outpatient general cardiology clinic at Beth Israel Deaconess Medical Center in Boston, MA.
My role as an ambulatory care pharmacist involves medication management of various chronic disease states including hypertension, hyperlipidemia, and heart failure, either in person or via telephone. Another large part of my role is to provide in-person medication counseling and injection training, particularly for the injectable PCSK9 inhibitors. The personal patient interaction during these counseling sessions was one of the things I loved most about my job. It was always so rewarding to see a patient leave so confident and comfortable with doing their own self-injections, when a half hour before they were extremely skeptical, afraid and uncertain.
Then COVID-19 hit, and for most of us, we lost these fact-to-face experiences with our patients as remote work in the safety of our homes was the "new normal." While working from home, I knew that I still wanted to engage with our patients and I certainly didn't want this pandemic to negatively affect patients' access to medications they normally would've received. Therefore, I contacted both the manufacturers of Praluent and Repatha and requested demo pens be shipped to my home. Once I received the pens, I installed a video conferencing application on my laptop and began offering video counseling session services to both providers and patients.
During these counseling sessions, we review purpose of the medication, dosing, side effects, storage considerations, and finally injection teaching. Since April, I have completed numerous counseling sessions with my patients, and all have said that seeing me live, reviewing the medication and how to give the injection is much easier than either listening to my directions over the phone or watching instructional videos on the drug manufacturer's website.
This whole experience has taught me that with some creativity and flexibility, we can continue to overcome obstacles in the workplace due to the COVID-19 pandemic. Especially during these times, I believe that our patients want to feel as normal as possible. Therefore, if there is a way that I can closely mimic what I do every day in clinic at home, that is what I want to be doing for our patients!
Katelyn Smith is a clinical pharmacy specialist at Beth Israel Deaconess Medical Center.
Posted April 1, 2021