Nominated by Therese Clark, pharmacy student program coordinator
Sharp Healthcare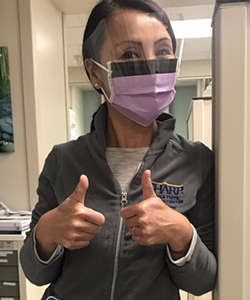 In March, we knew very little about COVID-19. Scratch that, we still know very little about it.
Each day in the emergency department brought new information that would change how we needed to protect our patients and ourselves from getting sick. Even our treatment plan had changed from week to week. Intubate as soon as possible? Start high flow nasal cannula and prone? Medication shortages, especially the ones we desperately needed to help patients breathe, only added to the complexities of an unknown situation.
The hallways and cafeteria once filled with people are now eerily empty. Visitors are no longer allowed inside the hospital, which means patients admitted with COVID-19 are alone, without the support of their loved ones at their bedside.
While we have treated many COVID-19 patients at our institution, worked long hours, put ourselves and our families at risk, and left our young children home all day to navigate online school on their own, we have not endured the kind of devastation that our colleagues on the front lines have in New York. They are the real heroes. It is difficult to imagine what they've been through and how they will recover.
Kim Schwab, PharmD, BCPS, is an ED pharmacist at Sharp Healthcare, Assistant Professor of Clinical Science, Keck Graduate Institute School of Pharmacy.
Posted April 1, 2021