Elliot Hospital
Workplace Well-being

One of my passions is workplace well-being. I was recently featured discussing this topic on ASHPOfficial. You can listen to the podcast here: COVID-19: Clinician Perspectives on Workforce Well-Being with Laura Truhlar


In 2014, I created the Daily Dose of Gratitude board, which hangs in the pharmacy department at Elliot Hospital. Staff can post things they are thankful for, particularly to co-workers. Gratitude helps build resilience, especially during this stressful time. I updated the board recently with the addition of a Mindful Corner to share mindfulness resources with the pharmacy staff.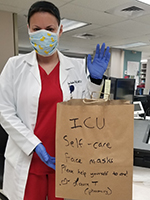 As a special thank you to pharmacy and ICU staff for all they do each and every day, I made 120 self-care face mask care packages. It is important for us to remember that we must take care of ourselves in order to take care of others – patients and family alike. While no one is excited about wearing a face mask all day at work, this is a type of face mask that helps with relaxation!

I also set up a "Hand Hydration Station" in the pharmacy department with some of my favorite hand moisturizers to share with the staff to help alleviate some of the painful cracks that come with frequent hand washing.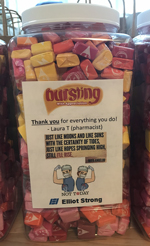 In celebration of National Nurses Week and National Hospital Week, I put together over 1,400 care packages for hospital staff containing soap, hand moisturizer, and a pin. I also made several jars of candy – bursting with appreciation with Starbursts and much & many thanks with M&Ms.

These times are challenging, and a difficult road likely lies ahead. Thank you to all ASHP members who are on the front lines caring for patients and those working behind the scenes. Your work and dedication is greatly appreciated!

As of February, Headspace is ASHP's exclusive meditation and mindfulness app. If you're an ASHP member, you have access to the app for free, I encourage everyone to check it out!

Shortages during a Pandemic
Practicing mindfulness has helped me navigate a rapidly changing environment during this time when everything "normal" has shifted. In the middle of March, my hospital reported the first coronavirus-related death in New Hampshire. Hospital leadership planned for a patient surge, miraculously transforming our cafeteria sitting area and main conference rooms into patient care areas. Senior leadership set up a blog to disseminate important information to the entire hospital staff including pertinent updates. Stay at Home orders were issued. Pharmacists rotated through working remotely. Elective surgeries were cancelled. This all seemed to happen overnight.

Like so many others have experienced, we have handled numerous medication shortages - albuterol inhalers, hydroxychloroquine, sedatives, analgesics, neuromuscular blocking agents. Our pharmacy buyers have done a phenomenal job keeping up with the demand. Over a holiday weekend, we had a sharp increase in patients requiring neuromuscular blockers. I was staffing in our ICU when I was notified we seemed to be running out of cisatracurium. I counted the vials we had remaining and calculated the rates for all our patients who were on cisatracurium, taking into account extended infusion sets and last tubing changes, and discovered we would likely run out the next morning.

Given the national shortage of cisatracurium, alternatives (rocuronium and vecuronium) were built in our electronic medical record system and records were created in our smart pumps. However, education had not yet been provided as it was not anticipated that we would run out over the long weekend. I reviewed articles to determine equipotent doses to best convert patients between agents. I reviewed my plan with the intensivist, ICU charge nurse, and pharmacy leadership. I discussed dosing considerations, monitoring, and appropriate patients to transition.

Given our full ICU and the patient population having an extended ICU length of stay, pumps had not been out of use in order to receive the update for the alternative neuromuscular blocking agent records. I found one spare pump and was able to update it, then worked with each nurse to slowly move medications over one at a time as safely as possible (as many of the medications were sedatives and vasopressors, some patients did not tolerate being off while transitioning between pumps). Each patient was on so many IVs that trying to detangle lines to move them was like wresting with a pair of earbud cords. Once one pump was free, I updated it to be used for the next patient.

I then ordered rocuronium for the appropriate patients based on my conversation with the intensivist, each starting when the hanging cisatracurium drips would be completed. I reviewed compounding with our IV room technicians. I worked with each nurse individually, checking compatibilities and which medications were currently running in which lines to determine how best to add rocuronium.

The whole process took many hours, and I worked almost a double shift to ensure safe, appropriate transition. Once the patient aspect was complete, I created an education document with information on available neuromuscular blocking agents, potency, compatibility, and reversal to share with the ICU nurses, intensivists, and pharmacy staff. I was happy that the patients did well with the transition.

This experience demonstrates the essential role of the pharmacist, and reminded me why I became a board-certified critical care pharmacist – to provide the best care possible for our patients who need it the most. Thank you to all my colleagues out there who are working on the front lines.

While this is a time of uncertainty, a new hospital tradition never fails to put a smile on my face – each time a COVID-positive patient is discharged, Here Comes the Sun by the Beatles is played on the overhead system. As this song plays, it reminds us all why we do what we do.

Laura Truhlar, Pharm.D., BCCCP, is a clinical pharmacist with a focus in critical care at Elliot Hospital in Manchester, NH.

Posted April 1, 2021