Samford University McWhorter School of Pharmacy and Christ Health Center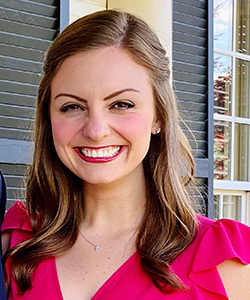 As an ambulatory care pharmacist at a federally-qualified health center (FQHC), I am very well-acquainted with seeing patients from the most low-income areas of our city. I have given hand warmers to patients without heat, given meal replacements to patients without food, and given medication advice to patients who could not afford costly prescriptions. Every physician, nurse, pharmacist, medical assistant, and student at our clinic work hard to do these things all of the time — not just during the COVID-19 pandemic. Each person works to provide the utmost care to patients who need it the most. While that was evident to me years ago as a student at this same clinic, these truths have become even more clear over the past few months.
On a busy February Wednesday at clinic, where we are seeing most patients in-office at this point, we caught wind that a "cold shipment" had arrived at our front doors. We all knew what this must mean and that was that our Moderna COVID-19 vaccines had finally – and without warning — arrived! Myself and my co-resident soon learned that we would be taking charge of the vaccination clinic processes and began to work on them. The next day we administered 10n vaccines to elderly patients and frontline workers. The next day, we did 20. Before we knew it, we had teachers from local schools and pastors from local churches making lines out our door to receive the treasured first dose of the COVID-19 vaccine. We have given hundreds now and are starting on our second doses. Most days, we give every dose we can get out of the vial, but some days … we have extra. We do everything we can to ensure that all doses get used and do not get wasted, because as we all know — this little vial is full of "liquid gold."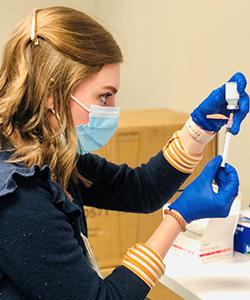 One day in particular, we were finishing up our vaccines for the day around 5 p.m. We had begun searching for one extra patient to whom we could give the extra dose. After a few calls and no answer, we began to think we might have to waste a dose for the first time yet. But, as I was finishing up organizing paperwork in our vaccine clinic area, an elderly woman knocked at the door. I let her in and began asking her our typical questions, thinking she was someone on our schedule for the day who was simply running late. I asked her if she was there for the vaccine and she stated that she was. I asked her if her doctor requested that she come, thinking that someone had called this patient and told her we had an extra dose: "Did someone call you and tell you to come get the vaccine?" She firmly stated, "God told me."
Realizing she was not on our schedule but might be exactly who we needed, I ran to check with our scheduling staff and supervising physician to make sure we could vaccinate this patient. They, of course, affirmed this question and I went to pass this along to the patient. I gave her a thumbs up from the hall and she immediately bent over at her waist and started to cry. She stated that she had tried to get in all over the city but could not. She walked from her home all the way to clinic because she had a feeling that she should. We were able to vaccinate this patient and she cried tears of joy the entire time she was in clinic with us, safely fist-bumping every clinic staff member she came into contact with. This was an incredible moment for all of us, as we struggle through the burden that working in healthcare during a pandemic has brought upon us for the last year. I realized that day that what we do in the field of pharmacy, even something as "small" as giving a vaccine, can mean the whole world to our patients.
Lauren Cimino, B.S., Pharm.D., is a PGY-2 ambulatory care pharmacy resident.
Posted April 1, 2021